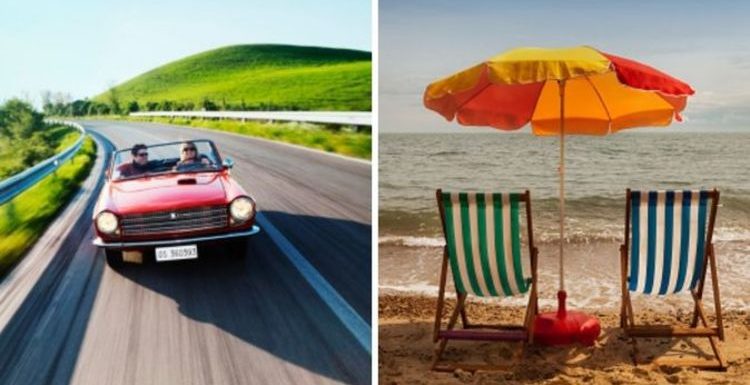 Simon Calder offers advice on booking staycations for 2021
When you subscribe we will use the information you provide to send you these newsletters. Sometimes they'll include recommendations for other related newsletters or services we offer. Our Privacy Notice explains more about how we use your data, and your rights. You can unsubscribe at any time.
Sometimes we get so wrapped up the idea of luxury international travel that we forget about the beautiful locations we have right here in the UK. If money's a little tight, you're bored of your local area, or you can't get the time off work to go away for a week or weekend, a day trip is a great idea. Express.co.uk chatted to Nicky Kelvin from The Points Guy UK.
Even though pubs, restaurants and shops are open again, it's difficult to fill your time with fun activities at the moment.
We can't all afford to go on holiday within the UK all the time, but a day trip here and there is a smart idea for anyone who has a free day to explore and travel.
But where should we go? Here are the three best places to spend a day in according to Nicky Kelvin from The Points Guy (and they're not too far from London!)
The 4 best places to go for day trips
Marlow
Some of the best places to visit for a day aren't cities, they're towns like Marlow.
Nicky said: "If you're after a break from the city, consider Marlow and the home counties – only an hour journey from the capital.
"Marlow is right on the river, so start by crossing Grade I-listed Marlow Bridge and go for a stroll along the Thames Path to spot wildlife (and the occasional rowing boat) on the river."
Whitstable
Whitstable has become a trendy destination for Brits in the last few years, and it's big enough to spend a day or two in and not get bored.
Nicky said: "If you're after more of the seaside, Whitstable is only an hour and a half away from London – and with its pastel-painted beach huts and thriving arts scene it's the perfect trip for sunnier days."
If you've got more than a day to explore, why not pop five miles down the road to Canterbury or stop by Herne Bay?
Stonehenge
Stonehenge is an iconic landmark in the UK… but how many of us can actually say we've been there?
Nicky said: "As we approach the Summer Solstice, a trip to Stonehenge is never more fitting – and it's only two hours away from London.
"It remains a truly remarkable relic of the prehistoric world — older than the Great Pyramids and still largely a mystery."
New Forest
The New Forest is a beautiful area of pasture land, heathland and forest in Hampshire and Wiltshire.
It's the perfect place to spend a day, or maybe even two or three, if you want to get close to nature.
Nicky said: "The New Forest is the closest you can get to a safari in the UK and only a two-hour drive from the capital.
"Here you can enjoy a country pub visit as well as the woodland scenery."
Source: Read Full Article