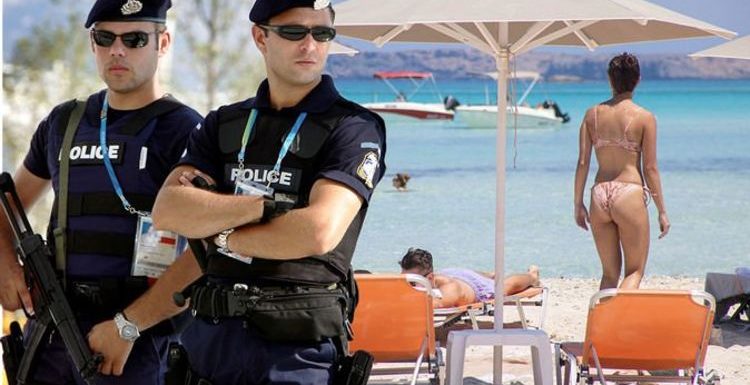 Greece 'confident' of being on green travel list says expert
We use your sign-up to provide content in ways you've consented to and to improve our understanding of you. This may include adverts from us and 3rd parties based on our understanding. You can unsubscribe at any time. More info
Greece's holiday islands Crete and Zante have been hit with new "partial lockdown" restrictions in recent weeks. The islands are two of the nation's most popular holiday destinations, and new rules will impact tourists and locals alike.
Fines for those who are caught breaching these rules can be as high as €200,000 according to local authorities.
The rules are specifically targeted certain regions of the islands, rather than the entire island.
According to the Foreign, Commonwealth and Development Office (FCDO), the restrictions include rules regarding nightlife and entertainment.
"A partial lockdown is in force in Chania (Crete) and on the island of Zakynthos (Zante) until at least 13 August, and in Heraklion (Crete) until at least 17 August," explains the FCDO.
However, it notes all "restrictions remain under review" and can be extended by local authorities if deemed necessary.
"In Regional Units where the spread of COVID-19 is particularly high and hospital capacity is limited, restrictions may be tighter or re-imposed with limited notice," it explains.
"Restrictions include a curfew between 1am and 6am, and a ban on playing music at entertainment venues."
Tourists who are due to visit these areas are advised to follow the instruction of local authorities.
DON'T MISS
Experts warn the cost of Covid tests is more than you thought [WARNING]
When to expect the next travel list update [INSIGHT]
Get fish and chips from this historic building [INSIDER]
Chania and Zakynthos restrictions were imposed earlier this month.
The lockdown measures in Heraklion are the most recent addition to the latest restrictions.
According to an announcement from local authorities in Heraklion, all residents must stay in their homes during curfew hours, and residents must remain in their hotel rooms.
The only exceptions will be for those travelling to and return from work or in case of a medical emergency.
The Civil Protection of Greece warned: "The administrative fine in case of violation amounts from €50,000 to €200,000."
Earlier in the summer, holiday hotspot Mykonos was also placed under similar rules.
Both curfew rules and a music ban were imposed on the island in July.
There are also wider restrictions still in place across the entire country in a bid to ease the spread of Covid.
See the latest Covid vaccine stats below and visit InYourArea for all the Covid vaccine latest
These include the mandatory use of face masks in "all indoor public and communal spaces, including work-places and on public transport."
There are restricted numbers in churches and religious services.
Public transport rules specifically targeting the number of passengers allowed in a taxi are also in place.
"A maximum of three persons are permitted to travel in a taxi or other private vehicle with up to seven seats, or four persons in a private vehicle with up to nine seats," advises the FCDO.
Britons heading to Greece or any of its islands are advised to "check the latest local guidance" before departure.
Source: Read Full Article