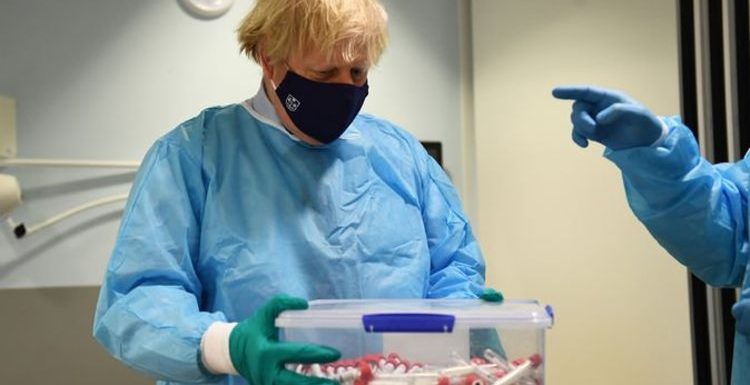 Travel: Simon Calder discusses taking PCR tests
We use your sign-up to provide content in ways you've consented to and to improve our understanding of you. This may include adverts from us and 3rd parties based on our understanding. You can unsubscribe at any time. More info
Covid testing has become a regular feature of life all over the world. Private firms offering PCR tests to holidaymakers have become the talk of the country when it was revealed that Britons paid more for the tests that everyone else in Europe.
The scandal led Health Secretary Sajid Javid to ask the Competition and Markets Authority (CMA) to investigate the PCR firms.
The Government is now taking matters into its own hands.
It was announced at the weekend that 80 private Covid test providers listed on the Government's website will be issued two-strike warnings over misleading prices, BBC reports.
Javid said: "It is absolutely unacceptable for any private testing company to be taking advantage of holidaymakers and today's action clamps down on this cowboy behaviour.
READ MORE: What happens when your Covid pass EXPIRES – how make it permanent
"Fifty-seven firms will be removed from the Gov.uk list and a further 82 will be given a two-strike warning – if they advertise misleading prices ever again, they're off."
The move, while welcome, was criticised for coming a bit late.
Which? said that they've been alerting the Government of the price problem of PCR tests for six months.
Rory Boland, travel editor at Which? told the BBC: "It's welcome news that the Government is finally taking responsibility for its list of test providers and carrying out an audit, but it's six months late."
He continued: "There should not have been providers listed on the Gov.uk website that don't exist.
"We found this in our first investigation in April, when providers were telling us that the system would collapse if larger numbers of people were travelling."
The issue with the PCR tests' price is nothing new.
Prices advertised are not always what travellers pay.
Rory said: "You can't get the £20 tests. We haven't met anyone who's had a £20 test. Generally the price you pay, at the cheaper end, is £40-£50.
"A lot of these firms offering £20 tests require you to drive to somewhere in England on a specific day, such as in Middlesbrough. When you try to book the test online, the booking calendar is almost always full."
The Government called PCR testing, which it requires everyone who wishes to enter the UK to have, a "predictable Covid rip-off".
"Predictable" and also being reported for over six months, the "Covid rip-off" is still mandatory for most travellers who enter the country.
The Government's removal of some of the worst offending firms from its website is a step in the right direction.
PCR firms on the Government list of test providers are also welcoming the move.
Avi Lasarow, EMEA CEO of Project Screen by Prenetics said: "It's great to see the Government clamping down on rogue test providers who have been abusing the Government list and misleading holidaymakers with cheap test offers that don't exist.
"The COVID-19 testing market is maturing but travellers are not interested in excuses. They expect service and results without compromise.
"Responsible test providers wanted to see these cowboys forced out of town so we can restore trust in the testing process for holidaymakers."
The summer season is coming to an end and most Britons will be more interested in issues related to the back-to-school season than PCR tests that allow them to go on holiday overseas.
For now, the "clamp down" on "cowboy behaviour" seem to be limited to removing the worst PCR firm offenders from the Government website.
A welcome move for holidaymakers, but one that may seem to be too little too late for many who've been "ripped off" over the summer holidays.
Source: Read Full Article