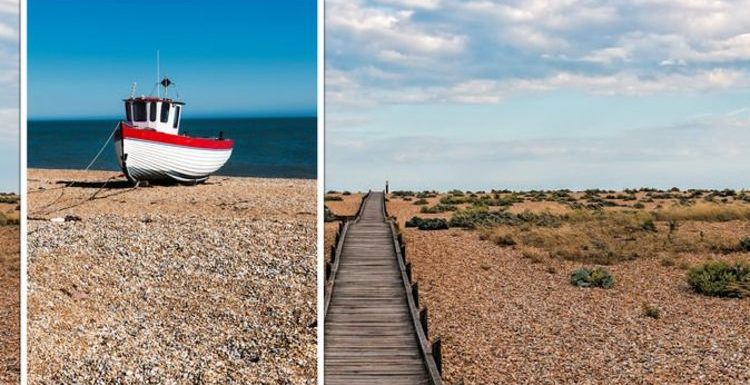 Travel: Mims Davies says staycations are 'the way to do it'
We use your sign-up to provide content in ways you've consented to and to improve our understanding of you. This may include adverts from us and 3rd parties based on our understanding. You can unsubscribe at any time. More info
There are many wonderful destinations to explore around the UK, and one is most unusual. Named on the list of the best seaside destinations in the UK, one hamlet is a world away from the rest of the country.
Dungeness is sometimes described as England's only desert.
But the endless shingle headland on the coast of Kent sees too much rain to be officially a desert.
The desolate landscape, however, will see holidaymakers feel like they are miles away from the UK.
Dungeness is home to a third of all UK plant species and to the smallest passenger railway in the world.
The largest shingle beach in Europe, Dungeness sees many tourists snapping pictures around the otherworldly landscape.
Dungeness's two nuclear power stations only add to the otherworldly feeling, and with a million visitors a year, the hamlet and beach is a popular destination in Kent.
Google reviewer Brian Woodhouse said: "Still a desert in my view… Wonderful and mysterious place to visit."
And Tracey Louise Vanspall-Oldham wrote: "This is a weird and wonderful place. It's still as untouched as it has always been. It's a fifth continent."
Dungeness was once home to filmmaker Derek Jarman, and his cottage, Prospect Cottage, is one of the attractions in the area.
Tripadvisor reviewer Lizanner said: "A trip to Dungeness beach to see Derek Jarman's house is a must. It's tough walking on the shingle beach but worth the trip. Take a picnic and sit on the beach and soak up the atmosphere. You can also buy fresh fish to take home for supper too. Even in semi lockdown it's possible to enjoy this simple pleasure of a house on a beach!"
Holidaymakers in Dungeness can explore the beach for hours, but there are other things to see in the hamlet.
The Old Lighthouse provides panoramic views over the Channel and the surrounding countryside.
On Tripadvisor, Louise W said: "Great example of a traditional 1900s light house. Beautifully kept. Soak up the atmosphere of what it would have been like for a lighthouse keeper at the time."
RH&DR Mini Railway self-identifies as the world's smallest public railway, as its steam locomotives are one-third of conventional engines.
Adam said: "The trains themselves were amazing and it was a nice long journey from Hythe to Dungeness.
"Overall and amazing experience and enjoyed by all."
And Bindy wrote: "A jewel in the crown for this area for sure.
"Excellent day out, such well kept engines and coaches, staff clearly passionate about it too."
The nature of Dungeness is the area's highlight, and the RSPB Nature Reserve is almost 1,000 hectares and a haven for birdwatchers.
Geoff H said: "This is a marvellous place for walking, breathing in the fresh air and taking photographs. Not to be missed if you are anywhere in the area."
While Dungeness is an isolated area, it's not without its food and drinks highlights.
For a traditional pub meal, Britons will want to go to The Pilot Inn.
Eric said: "A visit to Dungeness would be the same without sampling some of the local fish & chips. Having eaten here before, I knew not to order the large portion. A couple of beers were available, brewed especially for the pub, from the local Romney Marsh Brewery."
Janet W wrote: "After a long walk we all had the most wonderful fish and chips here. The best we have eaten all year. Great fish and delicious batter. Both the haddock and cod were excellent. Highly recommend a visit!"
The Snack Shack at Dungeness Fish Hut offers an alternative for holidaymakers in need of sustenance.
Kevin wrote: "Fish so fresh it's almost flapping. Scallops in a flatbread (have the Chili jam) with crunchy salad were sensational. Little fish fillets in a bun were beautiful. Eat in or take away. The Perfect light lunch, and not expensive."
And AJ Macwen said: "This place is just lovely. Amazing setting. Fantastic food. Everything we ordered was absolutely delicious. The scallop sandwich was especially good. The fried potatoes are gorgeous. Friendly organised service.
"Loved sitting in the sunshine looking at the weird and wonderful landscape. Note, it can get very busy. Twenty minutes in the queue then 20 mins wait for food when we went. Perhaps come at a more off-peak time on a sunny, busy day. But worth the wait. Bit special. Loved the Snack Shack!"
Source: Read Full Article