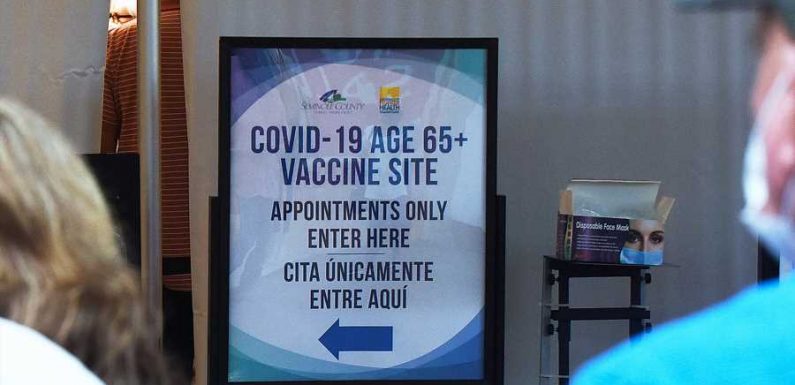 Florida will now require anyone seeking a COVID-19 vaccine in the state to verify their residency status in an effort to crackdown on so-called "vaccine tourism."
Florida State Surgeon General Dr. Scott Rivkees issued a public health advisory on Thursday requiring those distributing the vaccine to verify the patient is indeed a resident of the state and eligible to receive the vaccine there. 
In Florida, people 65 and older, health care personnel with direct patient contact, and residents and staff of long-term care facilities are prioritized for vaccine distribution, according to the state's Department of Health.
"We're only doing [shots] for Florida residents," Gov. Ron DeSantis said on Tuesday, according to CNN. "You've got to live here either full-time or at least part-time."
The South Florida Sun Sentinel reported the move follows several instances of people flying into the Sunshine State to get the vaccine from out-of-state and even from other countries, including from Argentina and Canada (taking a helicopter across the border from Canada to travel south for the winter has become quite popular during the pandemic).
While DeSantis said "snowbirds" — residents who live in the state during the winters — are fine, "what we don't want is tourists, foreigners. We want to put seniors first, but we obviously want to put people that live here first in line."
As of Jan. 19, the state had vaccinated more than 39,000 people who live out-of-state, including part-time residents, according to CNN, citing data from the Florida Department of Health.
Vaccine supplies have been limited throughout the country and around the world, but being inoculated is already starting to be required for travel purposes. The Seychelles, an island off the eastern coast of Africa, now allows fully vaccinated travelers to enter the country, and Saga Cruises, a cruise line that caters to passengers 50 and older, will require guests to be fully vaccinated before boarding. 
The concept of a vaccine passport has been gaining traction and several airlines, including American Airlines, Etihad Airways, and Emirates have started testing out health passports to streamline the travel experience and help customers upload required documents.
Alison Fox is a contributing writer for Travel + Leisure. When she's not in New York City, she likes to spend her time at the beach or exploring new destinations and hopes to visit every country in the world. Follow her adventures on Instagram.
Source: Read Full Article