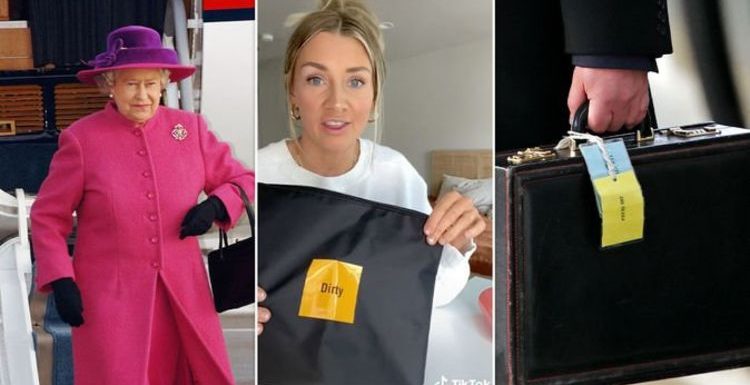 Martin Lewis Extreme Savers: Expert on how to cut luggage costs
We use your sign-up to provide content in ways you've consented to and to improve our understanding of you. This may include adverts from us and 3rd parties based on our understanding. You can unsubscribe at any time. More info
Cabin crew spend a significant percentage of their time travelling, so it is no surprise they are experts when it comes to luggage restrictions and packing. According to one flight attendant, though, there is a "simple" method that holidaymakers can use to ensure they stay "organised".
It turns out, her method is one which members of the Royal Family, including Queen Elizabeth and the Duchess of Cambridge, also make use of when jetting off abroad.
Flight attendant Kat Kamalani shared her insights on TikTok, explaining that she always makes use of labels when travelling.
However, to boost organisation, she recommends using different colours.
"If you're travelling soon you've got to try my simple packing tip I do every flight," Ms Kamalani said.
"As a flight attendant you're always travelling and the biggest tip I can give you is staying organised.
"How I do that is I make labels for everything and especially my family.
"My kids get orange, I get pink.
"The next time you guys travel make sure you use this trick."
Indeed, the Royal Family are also known to use coloured labels to signify which bag blondes to which member.
DON'T MISS
Passport warning: Briton warns of 'little-known' expiry rule[UPDATE]
Travel: 'Good deals' to help cut cost of PCR tests [INTERVIEW]
Spain facing devastation over Boris travel announcement [INSIGHT]
Over the years, the royals have been seen travelling with labels in shades of red, green, yellow and blue.
To an onlooker, this rainbow of luggage tags may mean absolutely nothing, however, they have a distinct meaning for royal staff.
According to insiders, these labels actually dictate not only whom the bag belongs to, but also where it is destined for.
Queen Elizabeth's luggage, for example, is often tagged with a yellow label that simply reads "The Queen".
Princess Anne is said to travel with a green bag tag that displays her name.
The Prince of Wales and his son Prince William, both have red tags.
Meanwhile, little Prince George has been known to travel with a blue tag.
Much like Queen Elizabeth, the Duchess of Cambridge is also reported to have yellow tags.
Often, a second tag is also assigned to bags to dictate where the luggage should be transported.
If the second label is blue, this means the bag should be loaded into the aircraft cabin.
A green secondary tag means the bag is to be sent to a hotel.
A yellow label, on the other hand, means a tag is heading to a private residence.
A residence tag is normally needed if they are visiting someone at their home, or if an official in the destination has opened up their home for the royals to stay in.
Source: Read Full Article