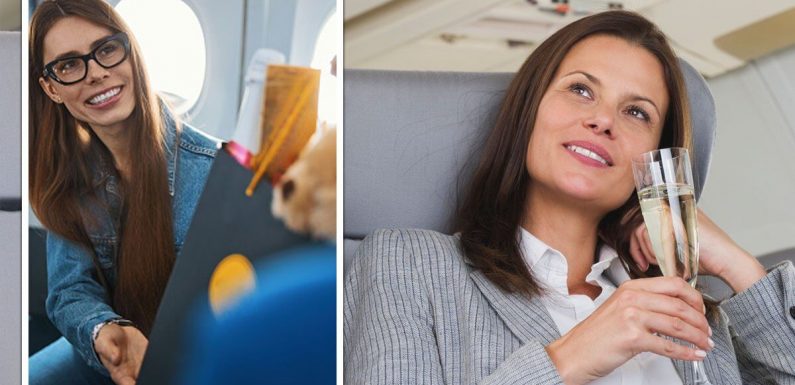 Flight attendant explains how to properly pack a bag
We use your sign-up to provide content in ways you've consented to and to improve our understanding of you. This may include adverts from us and 3rd parties based on our understanding. You can unsubscribe at any time. More info
TikTok user @cearakirk revealed some insider travel tips and tricks from her friend who is a flight attendant. She shared one particular tip that will not cost flyers more than a few pounds – but might get them bumped up to First Class.
@cearakirk began: "Here's the best tip my friend gave me, bring gifts for the flight attendants.
"Every single time my friend flies when he's not working he brings goodies for the crew members like candy and Starbucks gift cards."
These kind of gifts would be well received by flight attendants working hard all day and perhaps a little low on energy.
But the next step is crucial.
It's important that flyers make themselves known to the crew in some way rather than giving an anonymous gift.
@ceara said: "He also includes a thank you note with his name and number."
Of course this kind of gesture does not always guarantee a free upgrade to the front of the plane.
However, this method is tried and tested and has reaped some successful results.
"Of course he does this because he appreciates the flight attendants but they also bring extra snacks for him, sometimes they give him a glass of champagne or even a dessert from First Class."
The TikTok creator revealed that her friend has received extra snacks, free drinks, and First Class perks after giving the flight attendants a small gift – so it's worth a try.
But she added a caveat.
"Obviously no one owes you anything, so if you do this make sure you're doing it out of the kindness of your heart.
@cearakirk Reply to @sarahbsweatman update!!! #traveltips #learnontiktok #flighttips ♬ Own Brand Freestyle – FelixThe1st & Dreya Mac
"But nine times out of 10 they will treat you special."
@cearakirk's video was popular among her almost 300,000 followers.
The simple tip was saved by hundreds of flying aficionados.
TikTok user @noahaquino98 commented on the video vouching for the travel tip: "I did this innocently and two FA's separately gave me a Business and First Class flight set (pj's, slippers, fancy toiletries etc)."
@emlazott suggested: "I bring books I've finished reading, attendant always appreciate it!"
After all, the crew are getting off the plane too and could do with a book to read at their destination.
@clarely.she.is.insane added: "This 100 percent works.
"I always show up early and ask if they have any upgrades available or need to rebalance the flight," she said, advising flyers to be "sweet and appreciative" when doing so.
Source: Read Full Article