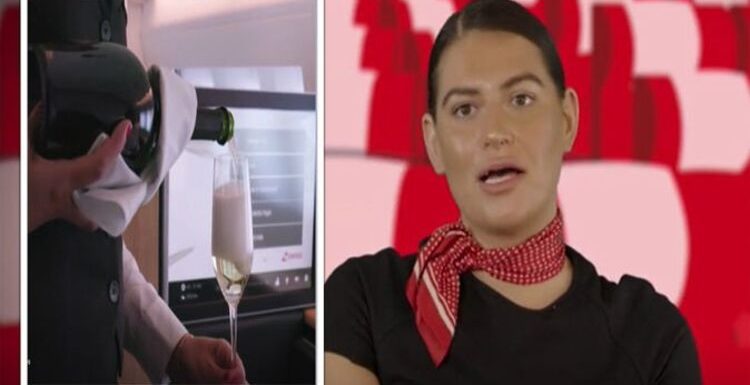 First class travel: How do people get upgraded?
We use your sign-up to provide content in ways you've consented to and to improve our understanding of you. This may include adverts from us and 3rd parties based on our understanding. You can unsubscribe at any time. More info
In Channel 5's Upgrade Me: Secrets of the First Class, viewers gained a glimpse of the first class lifestyle. Flight attendants also shared their best tips to get an elusive free upgrade.
The majority of British tourists travel in economy class which can be very uncomfortable for long-haul flights.
Travel expert Simon Calder said: "However good the inflight entertainment is, you're going to feel awful."
He said that first class travel is dying out, saying: "It's incredibly expensive to organise, sometimes you might only have one passenger in first class."
Channel 5 followed several frequent first class passengers to find out why the luxury seats are worth paying for.
But are there any ways passengers can score an upgrade to a first class seat?
Shauni, a senior cabin crew member, said: "I've had some people get on and give me chocolates."
She said although the passengers might have expected an upgrade, "it doesn't really work like that."
The flight attendant added: "People upgrade passengers when they are better looking. I don't know why that is."
Celebrity Christopher Biggins had another tip, but it might land some passengers in hot water.
He said: "What you should do is give your passport with a £50 note in it. Hand it over to them and they either have you arrested, or put you into a first class ticket."
However, former flight attendant and Love Island star Amy Hart, said: "The best way to get upgraded is to pay for it."
Passengers seated in first class can also gain access to exclusive airport lounges at most major airports.
Simon said: "The airlines will also compete on the lounge and the facilities they can offer in the lounge."
Luxury activities available in airport lounges include massages, reflexology, whiskey bars and huge buffets.
But the real bonus for first class passengers comes once they board the plane. Simon told viewers: "The most valuable real estate in the sky is in the first class cabin.
"That's why you are paying five to 10 to 15 times more than me down the back!"
Once onboard, first class passengers can relax in seats often twice as big as those in economy.
They are also treated to extravagant dining options. Eithad Airways even has a chef cooking on a griddle on some flights.
From Michelin quality food to caviar and £100 bottles of whiskey, first class passengers only receive the best.
Amy Hart said: "In first class you can get whatever you want whenever you want it. The passenger leads the service."
Source: Read Full Article