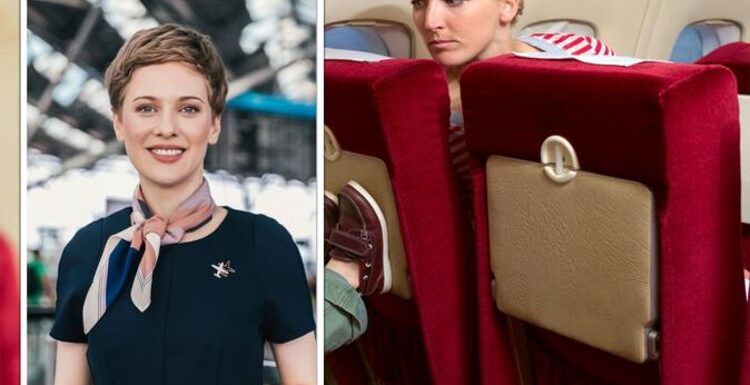 First class travel: How do people get upgraded?
We use your sign-up to provide content in ways you've consented to and to improve our understanding of you. This may include adverts from us and 3rd parties based on our understanding. You can unsubscribe at any time. More info
TikTok user @jeenie.weenie, worked as a flight attendant. She shared what happens to violent passengers on her TikTok account.
Her friend said: "What happens when passengers become violent or become a threat to other passengers and the crew?
"Well, they need to be restrained. Each airline has their own policy on how to restrain.
"But typically should not be restrained to any part of the aircraft unless it's the last resort.
"In an emergency we need to evacuate the plane in 90 seconds. And if restrained, it can keep other passengers from leaving on time."
While some airlines may use restraints, this is likely only to be used in the most extreme circumstances.
Cabin crew will have several de-escalation techniques to try before opting to restrain a passenger.
If the plane has yet to take off and a passenger becomes violent, the crew will most likely call for assistance from airport security or the police.
The passenger may then be removed from the plane or even arrested depending on the behaviour.
Occasionally airlines will be forced to make unscheduled stops due to unruly passenger behaviour.
In 2018, a plane flying from Chicago to Hong Kong was diverted to Alaska after a passenger allegedly smeared faeces in the aircraft's toilets.
In 2017, a group of British women on a hen party were escorted off a Ryanair flight by police for unruly behaviour.
The group had been travelling from Liverpool to Alicante for the party when the incident occurred.
In recent years, incidents have occured on flights as passengers argue over Covid legislation.
Several passengers in the USA have been removed from flights over issues with mask wearing.
Although several airlines including Jet2 have now lifted rules on mandatory masks, passengers were required to wear masks during the pandemic.
Some travellers refused to wear masks which led to heated arguments with other passengers.
Alcohol can also lead to incidents onboard and crew may refuse to serve alcohol if passengers become too rowdy.
There could also be difficulties if passengers refuse to sit down when the seatbelt sign is on.
The seatbelt sign usually comes on if the plane is experiencing turbulence and passengers must remain seated for their safety.
One flight attendant said standing up while the sign is on is one way to really annoy cabin crew.
Source: Read Full Article