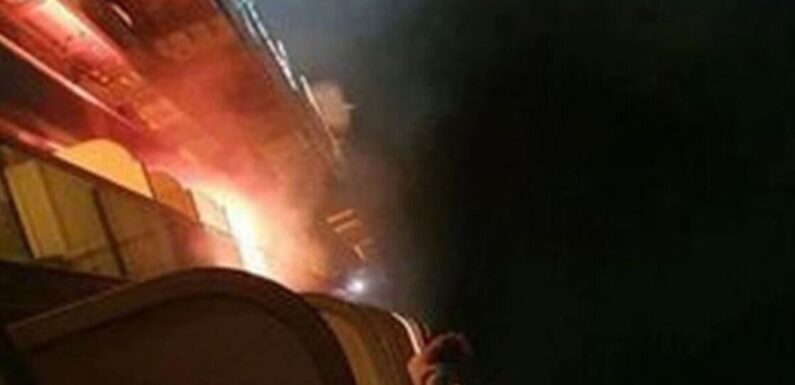 The fire started on a balcony onboard the Pacific Adventure cruise ship, off the New South Wales coast in Australia.
Passengers were forced to evacuate their cabins at about 3:30 in the morning, according to reports from 9News.
Footage of the incident showed the fire spreading and tired guests were pictured gathered following the evacuation.
A spokesperson for P&O Cruises Australia said the fire was extinguished quickly and the cause has yet to be determined.
The statement said: "This fire activated our emergency response procedures including a full muster of guests and crew and we thank everyone on board for their cooperation.
"There are no reports of injury. The extent of the damage and the cause of the fire are yet to be fully determined and remain under investigation."
The ship was thought to be in the middle of a three day cruise around the Sydney area of Australia.
It is thought to have been carrying over 3,000 guests and over 1,000 crew and was scheduled to return on Tuesday.
Don't miss…
The UK destinations where seagulls are most likely to steal chips[SEAGULLS]
Sunniest place in the UK crowned – full list[STAYCATION]
I looked for the cheapest holiday destinations for flights in July[INSPIRATION]
Passengers were reportedly told to grab their life jackets as firefighters fought the blaze in a guest's cabin.
The guests were woken by an emergency alarm and told to evacuate their cabins immediately.
A passenger who said the fire was on the deck below her told 9News, she could smell the smoke when she was in the hallway.
According to 9News, everyone was allowed to return to their cabins at around 5am after the fire was extinguished.
Four cabins were reportedly damaged in the blaze but the cruise is set to continue its itinerary as planned.
During an emergency such as a fire, cruise passengers are told to go to 'muster stations' which are pre-planned emergency points.
Source: Read Full Article