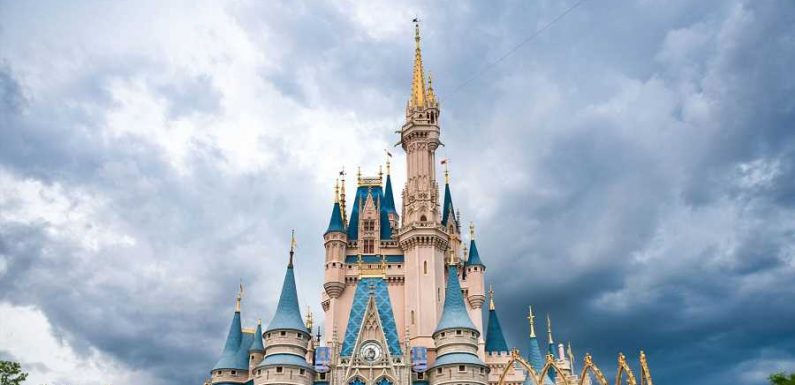 Dozens of fake Walt Disney World restaurant listings have popped up on Grubhub, offering magical meals that will never arrive. From celebrity chef-helmed restaurants to Epcot ice cream shops, all kinds of indulgences sold at Disney World hotels, Disney Springs dining district, and even within Disney theme parks—which currently require two forms of admission to enter—are falsely listed on the food delivery app.
This past week, Twitter user @ClarabelleCows noticed that the Muppets-themed Regal Eagle Smokehouse, which serves barbecue at Epcot theme park, was listed on Grubhub. She successfully placed an order and a driver was sent out, but it was eventually canceled and the restaurant was removed from the delivery app the following day.
This isn't the first time Grubhub has added restaurants to their platform without permission, or even the first time it's happened at Walt Disney World. Disney Food Blog, which first noticed the odd listings last year, has placed multiple unsuccessful orders to in-park dining locations while locals have taken note of additional theme park locations that appear on the app from time to time.
It's an even bigger problem beyond the Most Magical Place On Earth. Food & Wine reported last January that Michelin-starred restaurant Kin Khao, which does not offer delivery, was listed on Grubhub, Seamless (which is owned by Grubhub), and Yelp. A separate class action lawsuit was later filed on behalf of over 150,000 restaurants that were added to the delivery platform without permission, of which litigation appears to still be pending. (According to the North Bay Business Journal, Grubhub has until January 29 to respond to the lawsuit.) 
"Grubhub places restaurants on our platform to offer diners variety and to increase the volume of orders for the restaurants," a spokesperson for Grubhub told Food & Wine. "Unfortunately, the restaurants within the theme park were inadvertently added to the platform, and we are sorry for that. As soon as we were notified, we began the process of removing them from the platform."
The app issues drivers a Grubhub Driver Card, which can be used to place and pay for orders in-person—thus circumventing restaurant participation, a practice that is now illegal in California—but many Disney restaurants, especially table-services ones, are not equipped to handle multiple takeout orders in the first place. In addition to independently confirming Disney-operated restaurants do not work directly with Grubhub, over 30 Walt Disney World eateries on the app have no reviews, ratings, or proof of any successful deliveries.
The restaurant pages themselves can look all sorts of wonky and outdated. Some, like the Star Wars-themed Docking Bay 7 rendered in generic text or Terralina Crafted Italian paired with a photograph of a popular Disney waterpark sundae served in a sand pail, may alert a customer to something being awry, while others that appear legitimate may be even less so.
Spyglass Grill, a Caribbean restaurant "new" to Grubhub, isn't even open; the eatery has not yet returned to operation following Walt Disney World's 116-day closure during the COVID-19 pandemic. Same for Intermission Food Court, which is located at the temporarily closed Disney's All-Star Music Resort hotel. Even the aptly named "Mini Donuts" offers same-day delivery of Blizzard Beach's beloved bite-size treats from a waterpark that won't reopen until March. 
It's a practice—one of many—that sits poorly with independent restaurateurs but presents unique problems for the areas surrounding Walt Disney World. The Florida parks, which are currently open with health guidelines and safety protocols in place, routinely close around dinnertime and guests are prompted to utilize Disney's newly expanded mobile ordering system to avoid waits and crowds. At a time when eating in one's hotel room is one of the safest available options, diners won't know until well after their order is placed that it will never arrive, making the illegitimate listings particularly egregious, both for guests and gig workers.
These days, entering one of Disney's theme parks requires valid admission as well as a "park pass," or dated entry reservation, neither of which Grubhub delivery drivers are likely to have while working. When an order is canceled, the customer is not charged—but the driver, who is already deep within Disney property, doesn't get paid their full rate. 
A select few locations, however, do work. While testing Grubhub's listings, Disney Food Blog was able to receive items from Disney Springs' Earl of Sandwich and D-Luxe Burger, which does not require theme park admission to enter. Still, anyone unwittingly ordering from Epcot's kakigori shave ice stand or French boulangerie is likely to meet a worse fate.
As great as it would be to kick back with a Dole Whip in bed after a long day in the parks or enjoy one of Disney Hollywood Studios' famed peanut butter and jelly shakes by the pool, this is one fairytale ending that just won't come true.
This story originally appeared on FoodandWine.
Source: Read Full Article