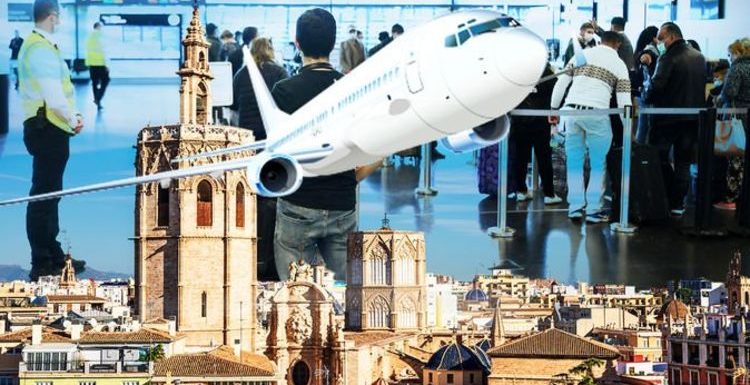 Spain announce travel ban for UK flights amid coronavirus strain
Spain has extended its travel restrictions for UK travellers, it was announced today. The Foreign, Commonwealth and Development Office (FCDO) revealed the news this afternoon. UK travel is now banned until February 16 at the earliest.
This date has now been extended on multiple occasions.
"On December 22, 2020, Spain introduced travel restrictions on passenger travel from the UK by air and sea," said the FCDO in its latest travel advice.
"These measures have been extended until 6pm (GMT+1) on February 16 2021 (5pm / GMT in the Canary Islands), with the exception of Spanish nationals and those legally resident in Spain."
Anyone who does enter Spain faces strict rules but no self-isolation will apply to British travellers.
We will use your email address only for sending you newsletters. Please see our Privacy Notice for details of your data protection rights.
"All passengers (excluding children under the age of six years old) travelling to Spanish airports and ports from 'risk' countries (as determined by the European Centre for Disease Prevention & Control) will be required to present a negative PCR swab test taken within no more than 72 hours prior to arrival, in order to enter the country," explained the FCDO.
It added: "This requirement applies to all passengers arriving in Spain by air or sea, regardless of your residency status in Spain and the length of time you intend on staying. Property owners in Spain are subject to this requirement."
A mandatory Health Control Form must also be completed which proves that you have undertaken a PCR, TMA or LAMP test within no more than 72 hours prior to arrival, have tested negative for COVID-19, and can show on request evidence certifying your results.
The FCDO cautioned: "Checks will be carried out on arrival to confirm travellers have undergone a COVID-19 PCR, TMA or LAMP test and have tested negative.
"A minimum fine of €3000 may be issued to anyone who arrives in Spanish airports and ports from 'risk' countries without adequate evidence of a negative PCR, TMA or LAMP test."
The news from Spain comes as the UK introduces drastic measures to limit the spread of covid.
Prime Minister Boris Johnson has confirmed the introduction of quarantine hotels for arriving travellers.
Anyone arriving in the UK from a total of 22 "high risk" countries will have to self-isolate for 10 days at their own expense at a hotel.
"We will require all such arrivals who cannot be refused entry to isolate in government-provided accommodation, such as hotels, for 10 days without exception," Johnson told lawmakers.
"They will be met at the airport and transported directly into quarantine."
Spain is not understood to be on the "red list" but Home Secretary Priti Patel is to introduce details later today.
A travel industry source told the PA news agency that the list of destinations this will apply to includes all of South America, southern Africa and Portugal.
Kenya, Ethiopia, the United Arab Emirates and Nigeria could also be added.
It is understood that airlines will be told to quiz people about their reason for travel before allowing them to board flights. Firms will face being fined if they fail to do this.
Airline bosses are demanding that the Government provides an "urgent road map for the reopening of air travel".
The chief executives of British Airways, easyJet and Virgin Atlantic were among those calling for the Government to publish a plan that "draws upon the tools available now to us, including testing, working in concert with vaccine rollout at home and internationally".
They added: "The time has now come for a bespoke support package that can get UK airlines through this crisis."
Source: Read Full Article