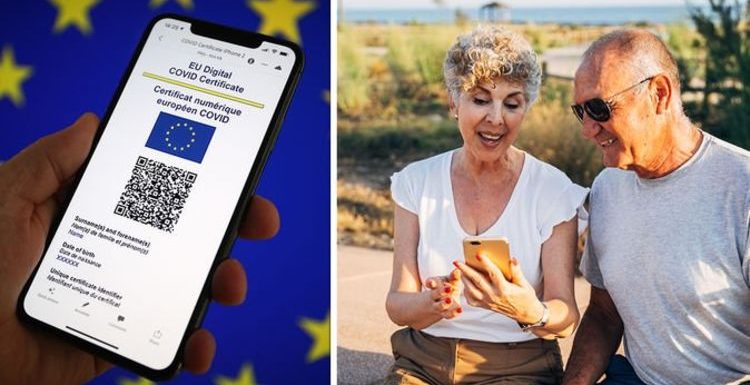 Boris Johnson discusses booster jabs for international travel
We use your sign-up to provide content in ways you've consented to and to improve our understanding of you. This may include adverts from us and 3rd parties based on our understanding. You can unsubscribe at any time. More info
The validity of the EU COVID-19 vaccine certificate is set to be the same for all countries.
Health Commissioner Stella Kyriakides explained: "The European Commission is working with the utmost urgency to strengthen the coordination of free movement.
"Including the length of validity and the role of boosters in the vaccination campaign.
"We are determined to reverse the current wave," she added.
Due to the rising Covid cases across countries, Kyriakides said she fully agrees with the "urgency".
Kyriakides said discussions with EU member states on the Covid certificate were taking place.
The EU is set to come with a proposal on the shared validity of vaccine certificates this week.
"We are determined to reverse the current wave…
"And we are also aware that we need to give clear, coherent messages to citizens," she said.
The EU plans could include making the vaccine passport valid for only 12 months after the second dose, according to EURACTIV.com.
A source told the EU policies network that the COVID-19 vaccine certificate will be valid for just one year after the final dose.
The European Commission is reportedly working on "either a recommendation or a delegated act to extend the use of Covid certificates to travel in the EU."
Fully vaccinated travellers will then have to take a COVID-19 jab 12 months after they received their second dose.
That could mean British expats living across Europe having to take a booster jab after one year in order to renew their vaccine passports.
Travellers who are not vaccinated or don't take the booster shot will have to take a test to be able to travel across Europe.
The EU Digital Certificate has been effective since July 2021.
It was originally set to last until June 31, 2022.
All the EU and Schengen Area countries currently issue and accept the certificate.
The UK also accepts the European vaccine passport.
Source: Read Full Article