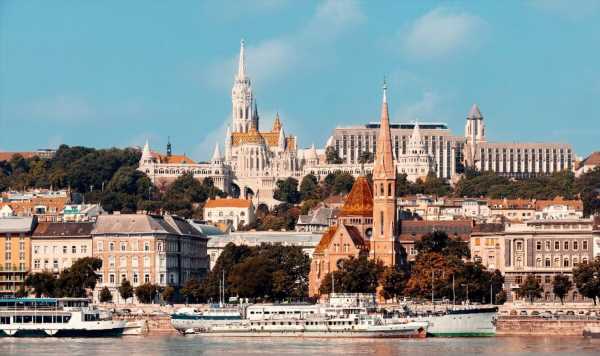 Trying the local cuisine is a holiday highlight for many Britons. A new ranking from the expert team at Sail Croatia has ranked the cheapest European cities for a meal out.
The team looked at the average prices for cheap eats, three course meals and fine dining to find the cheapest spot for Britons to eat out.
Budapest, Hungary's capital city, topped the ranking with the average price of a meal out in the Eastern European hot spot costing just $56.04 (£46.04).
Cheap eats were even better priced at under £10 for a meal, coming in at £8.13 on average in Budapest.
Where else can Brits find a cheap meal?
READ MORE The most beautiful British seaside town to visit in autumn named
Cheapest cities in Europe for eating out
Budapest, Hungary
Warsaw, Poland
Barcelona, Spain
Paris, France
Rome, Italy
Madrid, Spain
Amsterdam, Netherlands
Dublin, Ireland
Stockholm, Sweden
London, UK
Don't miss…
Israel travel warning as flights and cruises cancelled[LATEST]
Cruise passengers warned of banned items on a cruise ship[CRUISE]
Travel expert shares overcrowded destinations to avoid[EXPERT]
We use your sign-up to provide content in ways you've consented to and to improve our understanding of you. This may include adverts from us and 3rd parties based on our understanding. You can unsubscribe at any time. More info
So what can British tourists look forward to sampling in Budapest? At the cheap end of the scale, Britons might want to try langos, deep fried dough often topped with cheese or sour cream.
Goulash is another staple dish, a spicy meat stew usually flavoured with lots of paprika. Vegetarians can enjoy lesco, a vegetable heavy tomato ragout style dish.
Sweet tooth? Budapest's most famous dessert, kurtoskalacs or chimney cake, is a cylinder shaped dough often covered with melted butter and cinnamon. It's often sold by street vendors.
Britons might be surprised to see expensive cities such as Paris make the list but the French capital does have plenty of affordable street food options such as falafel.
Warsaw took second place on the list while London just scraped a spot on the ranking in 10th position.
Planning a staycation? Check out some of the UK's best restaurants as rated by Tripadvisor instead.
Source: Read Full Article