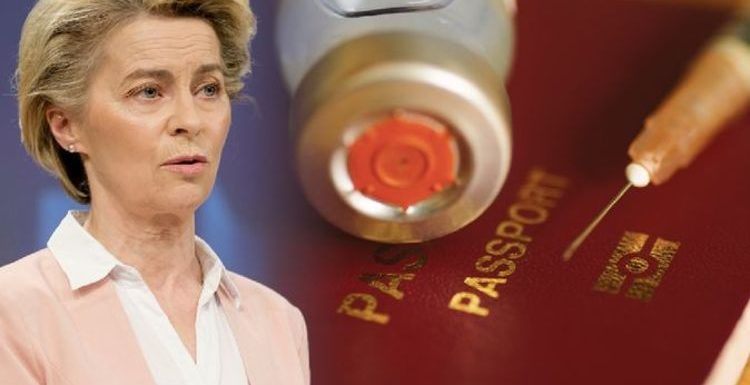 EU: 'Real split' over vaccine passport idea says expert
When you subscribe we will use the information you provide to send you these newsletters.Sometimes they'll include recommendations for other related newsletters or services we offer.Our Privacy Notice explains more about how we use your data, and your rights.You can unsubscribe at any time.
EU chief Ursula von der Leyen has announced she will present plans for a bloc-wide vaccine passport later on in March. The digital certification scheme will be rolled out in line with vaccinations in EU member states.
Mrs von der Leyen said: "As for the question of what the digital green passport could look like: we will submit a legislative proposal in March."
However, exact plans have not yet been unveiled and it is not clear how this might impact Britons hoping to visit EU countries in the future.
There are hopes a vaccine passport could open up international travel in time for the summer.
Speaking exclusively to Express.co.uk, Neil Wright, founder and managing director of CoverForYou, said he didn't think the EU jab certification would necessarily impact Britons.
The expert was, however, in support of a similar scheme being rolled out in the UK.
"I believe that a vaccine passport will not be necessary in order to travel to the EU, but will probably be used to either eliminate or reduce any quarantine time at arrival at your destination and on return home to the UK," he said.
Mr Wright continued: "It would make sense for the UK to follow suit as this is clearly a way in which travel, which supports so many jobs in the UK, can be safely opened up.
"A standard Covid vaccine passport will allow for normal holiday travel to be a real possibility this summer and should be welcomed."
DON'T MISS
Flights: Latest TUI, BA easyJet, Ryanair & Jet2 updates [UPDATE]
Pound euro exchange rate 'calmer' and 'firmer' ahead of budget [COMMENT]
UK travel: Expert shares how to save money on staycation [INTERVIEW]
It is an idea shared by Denis Kinane, founder and CMO of private testing company Cignpost Diagnostics.
"For the next few months and beyond, as the vaccine rolls out, there will be a continued need for COVID-19 testing," he said.
"This is especially true for the reopening of foreign travel, which according to Monday's announcement, may commence from as early as May 17.
"The only way for this to happen safely is through a combination of gold standard PCR testing and vaccination.
"In order to simplify the verification of these events, I would fully support the notion of airline travel passes.
"These passes will provide much-needed validation of whether travellers have had COVID-19 tests and/or vaccines and may provide a long-term solution to safely opening our borders.
"The biggest hurdle now is one of confidence, as both Governments and travellers must have complete faith in the accuracy of tests to allow them to enter foreign countries.
"We believe the use of PCR testing should be used in conjunction with vaccine passports in order to reopen the travel sector and the wider economy."
Ian Robinson, CEO of Air4Casts added: "In July of last year leisure travel from the UK to the major holiday destinations of the EU rocketed: up by a factor of fifteen in June.
"In July bookings doubled bringing visitor numbers back to some 25 percent of the 2019 peak. This sort of increase is the minimum which could be expected from a Europe-wide vaccination passport scheme.
"The consumer demand is there, all that is required is that governments should agree."
Though there has been no confirmation of vaccine passports becoming the norm in the UK, Britons will be able to access evidence of inoculation from the NHS should they travel to a nation insisting on it.
However, the World Health Organisation (WHO) served a blow to the idea of vaccine passports for travel.
The health authority said "critical unknowns regarding the efficacy of vaccination in reducing transmission" still remain.
Travellers who have had the Covid vaccine should therefore not be exempt from existing travel restrictions, the experts argued in their latest travel advice.
The WHO's interim position paper detailed: "At the present time, it is WHO's position that national authorities and conveyance operators should not introduce requirements of proof of COVID-19 vaccination for international travel as a condition for departure or entry."
Source: Read Full Article