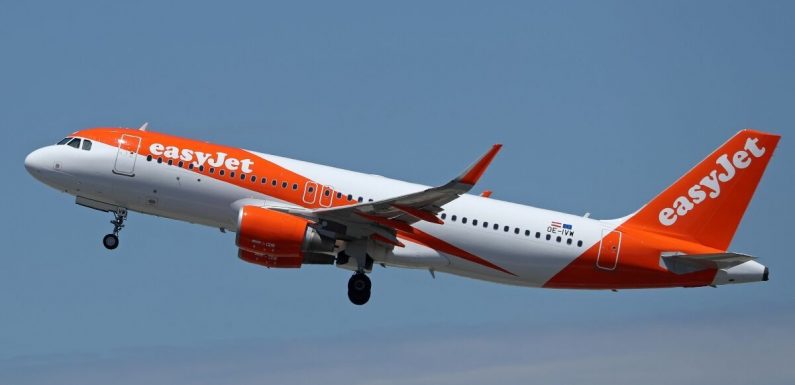 Travel chaos: Ryanair's O'Leary calls for more European workers
We use your sign-up to provide content in ways you've consented to and to improve our understanding of you. This may include adverts from us and 3rd parties based on our understanding. You can unsubscribe at any time. More info
Members of the Spanish USO union are planning to walk out for 72 hours over a pay dispute. easyJet, Ryanair and British Airways all have staff strikes set to go ahead this summer.
If the easyJet strikes go ahead, there will be a series of three day walkouts from the start of July.
Staff are planning to strike every two weeks on the dates of July 1-3, July 15-17 and July 29-31.
The union is asking for a 40 percent increase in cabin crew's basic pay and has said it is open to talks.
USO said: "Spain's cabin crew team has the lowest basic income of all European easyJet hubs.
"If you fly a lot of hours, you end up paying your invoices but reducing your break time and doing a higher number of flight hours."
Over 450 staff are planning to strike and the action will include employees at Barcelona El Prat Airport.
easyJet hubs in the popular holiday destinations of Malaga and Palma are also likely to be affected.
An airline spokesperson said: "We are extremely disappointed with this action as we have made considerable progress towards a new CLA and so would like to continue the constructive dialogue with them.
"At this stage, easyJet plans to operate its full schedule and we would like to reassure customers that we will do everything possible to minimise disruption."
The planned industrial action is just one of many scheduled to take place this summer.
BA staff at Heathrow are set to walk out in July over a pay dispute. Staff affected had their pay docked by 10 percent during the pandemic.
Although the airline has offered the staff a one-off payment of 10 percent this year, staff have rejected the offer as they would like the pay reinstated permanently.
Ryanair staff in Spain, Portugal, Belgium, France and Italy are set to walk out at the end of June.
Meanwhile in the UK, train strikes continue on Saturday this week and action could extend into July.
The travel industry has struggled to restart after the pandemic with many key areas suffering from staff shortages.
British tourists have faced chaotic scenes at UK airports and many have had flights delayed or cancelled.
Passengers with cancelled flights are entitled to an alternative flight on their intended day of travel if one is available.
They could also be due cash compensation if their flight is cancelled with less than two weeks' notice.
The compensation varies based on the length of the cancelled flight and will not apply in every case.
The USO union has said it is open to talks with easyJet.
Source: Read Full Article