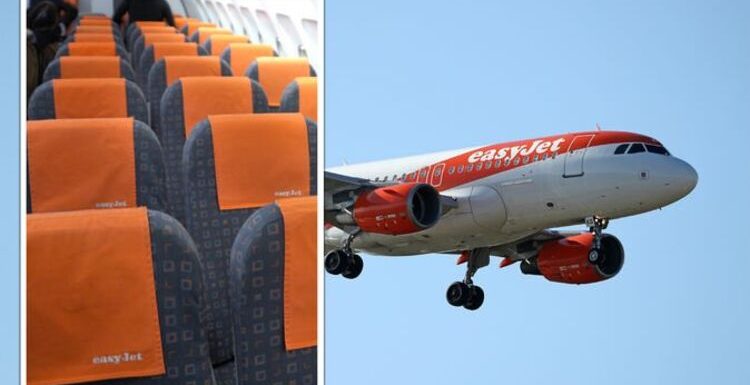 Manchester Airport: Eamonn Holmes on problems with travel
We use your sign-up to provide content in ways you've consented to and to improve our understanding of you. This may include adverts from us and 3rd parties based on our understanding. You can unsubscribe at any time. More info
easyJet is one of the UK's most popular airlines and many passengers fly with the carrier each year. But which passengers qualify for a free seat?
Customers will need to pay for a seat if they want to choose where they sit on an easyJet flight.
Passengers that don't want to pay for a seat will have one selected for them when they check in.
easyJet states: "You can choose where you'd like to sit for a fee. Seats can be selected at time of booking, or at any time before you check-in, via Manage bookings on our website or mobile app.
"On bookings with more than one passenger, allocated seats must be selected for all passengers on the booking otherwise we cannot allow any allocated seats to be purchased."
Customers travelling in a group will need to pay for seats for every passenger if they want an allocated seat.
easyJet has three seat options. Standard seats are free for easyJet Plus cardholders and customers with a FLEXI fare.
Up Front seats are located in rows two to six and include an additional large cabin bag as well as an under seat cabin bag.
Up Front passengers will also qualify for speedy boarding and use of the easyJet Plus bag drop.
easyJet Extra Legroom passengers will receive all the benefits of Up Front seat holders as well as more legroom.
easyJet states: "Infants (children under two) need to sit with an adult either on their lap or in an adjacent seat.
"On all of our aircraft we can allow up to one infant on a lap for each row of three seats. If you're booking online, you can seat an infant on your lap for a fee."
Customers who would prefer their infant to have their own seat will need to call the easyJet Customer Service team.
Adults can travel with a maximum of two infants and at least one will need to sit in a suitable car seat.
Some extra legroom seats on an easyJet aircraft are limited to certain passengers for safety reasons.
Infants, anyone sitting with an infant, anyone under 16 or who needs a seat belt extension cannot sit next to an emergency exit.
Passengers may be required to help with the exit in an event of an emergency so must be able to operate the door.
easyJet seats are a maximum size of 72.5cm by 43cm on its aircraft and passengers will need to contact Customer Service if this could be an issue.
Passengers who have special medical requirements, a broken leg or who are of a large build may need to buy an additional seat.
Customers that decide not to purchase a seat on easyJet will be allocated one for free at check in.
It could be beneficial for passengers to check in early if they want to be seated with companions, although there is no guarantee this will be the case.
Source: Read Full Article