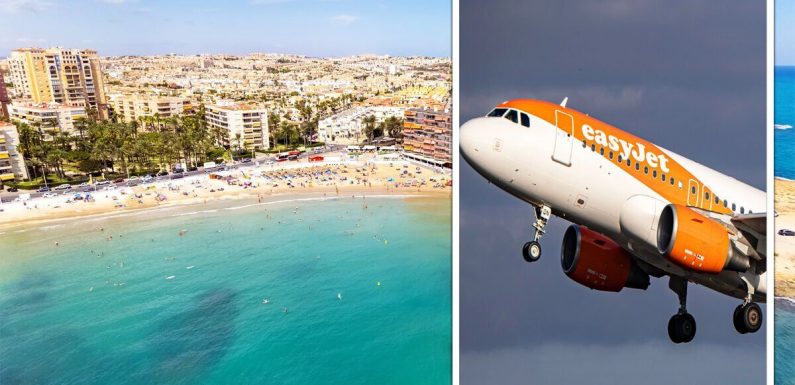 Martin Lewis: Presenter travels Malaga to test cash machines
We use your sign-up to provide content in ways you've consented to and to improve our understanding of you. This may include adverts from us and 3rd parties based on our understanding. You can unsubscribe at any time. More info
The low-cost carrier is one of the UK's most popular airlines. easyJet shared the update on its website.
easyJet said: "It's good news if you're planning a trip to Spain.
"Not only can fully-vaccinated passengers enter without testing or quarantine, it's also possible for non-vaccinated passengers to enter Spain too, as long as they can show proof of a negative test or recovery.
"If you're fully vaccinated you'll need to show acceptable proof (such as the EU Digital Covid Certificate or NHS digital Covid pass).
"If you're not fully vaccinated you need to show either a negative COVID-19 test or proof you've recovered from COVID-19 in the last six months."
Negative PCR tests must have been taken within the last 72 hours while antigens can be from the last 24 hours.
easyJet added: "If you're not fully vaccinated and aged 12 or over, you'll also need to complete a Spanish Travel Health Form and have your QR code ready to show throughout your journey.
"For full details including acceptable proof of vaccination and Health Form Requirements please see our COVID-19 Travel Hub."
Spain recently relaxed its rules on non-vaccinated Britons who could previously only travel with proof of a recent recovery.
The popular destination was one of the last EU countries to relax rules for unvaccinated travellers.
According to easyJet data, over 30 percent of Britons are planning to travel to Spain this year.
Many families may be planning a half-term Spanish holiday or a longer break in the summer months.
easyJet has recently cancelled a lot of flights for passengers as airlines struggle with staff shortages.
The budget carrier is set to remove a row of seating from its planes so it can operate with fewer cabin crew.
Planes with fewer than 150 passengers can operate with three cabin crew instead of four which may ease issues.
Julia Lo Bue-Said of the Advantage Travel Partnership told Express.co.uk: "easyJet resorting to stripping out seats prevents them from having to cancel flights and keeps their capacity for this summer close to 2019 levels avoiding unnecessary flight cancellations, helping consumers and travel agents manage demand for summer travel."
Despite the cost of living crisis, many British tourists are eager to get away for a summer holiday.
Consumer finance expert, Martin Lewis, warned Britons not to withdraw money in GBP from cash points abroad.
Cash machines in foreign countries are likely to offer a worse exchange rate to tourists than their own card.
Therefore British tourists should always withdraw money or make purchases using the local currency.
Source: Read Full Article