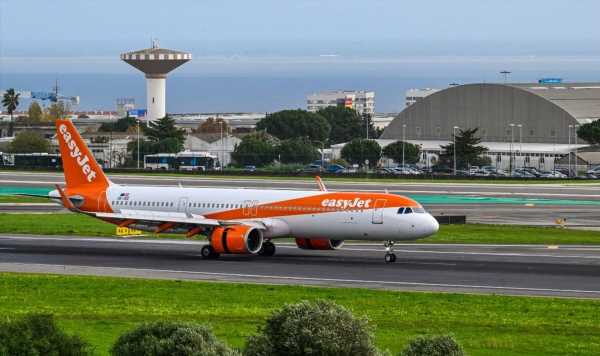 easyJet issued a travel warning on its website as holidaymakers could face "disruption". The budget airline said passengers should allow "plenty of extra time" to reach the airport.
An airline spokesperson said: "We have been advised of a National Strike in France starting 7pm local time on Monday March 6 to 7am Friday March 10.
"Air Traffic Control staff are joining the strike action and therefore like all airlines, our flights to and from French airports, as well as those flying in French airspace, could be affected.
"We expect that there will be delays and some disruption due to the industrial action, therefore we advise all customers to check the status of their flight on our flight tracker either or on our mobile app or website.
"Please also be aware that public transport services may be affected by the strike. We recommend all customers allow plenty of extra time to get to the airport and consider alternative transport options where possible.
"Although this situation is outside of our control, we would like to apologise to any affected passengers for the inconvenience caused."
The airline said it would contact any affected passengers via the email or text message provided at the time of booking.
Customers with cancelled flights were advised not to travel to the airport but to transfer their flights free of charge or take a refund.
Holidaymakers can use the Manage Bookings page on the easyJet website to do this or the Flight Tracker.
Don't miss…
Best British Airways deals March 2023[DEALS]
US tourists slam British Museum because artefacts are 'stolen' [NEWS]
'Lovely' beach named one of UK's best coastlines [STAYCATION]
The National Strike in France could bring services to a halt as workers from multiple industries are expected to walk out.
Teachers, gas and electricity walkers, train drivers and industrial workers are set to take part in the strikes.
Strikers will vote at the end of each strike day whether to continue with industrial action so it could continue for a while.
The secretary general of the CGT union said that strikers were prepared to "bring the French economy to its knees".
The strikers are protesting over the French Government's pension reform plans and the action is expected to cause heavy disruption.
Holidaymakers should be aware that public transport could be heavily impacted by the strikes.
Tourists are advised to leave extra time for their journey to the airport or the train station in France.
Travellers should also check the status of their flight before travelling to the airport in case it is impacted.
Travel insurance sometimes covers delays and cancellations caused by strikes but this isn't always the case.
Tourists should check their policy and purchase travel insurance as soon as they book their holiday.
This means if a strike is announced after they book, they may be able to claim money back on insurance.
Some travel insurance policies explicitly exclude strike action so tourists should always check the terms and conditions.
Source: Read Full Article