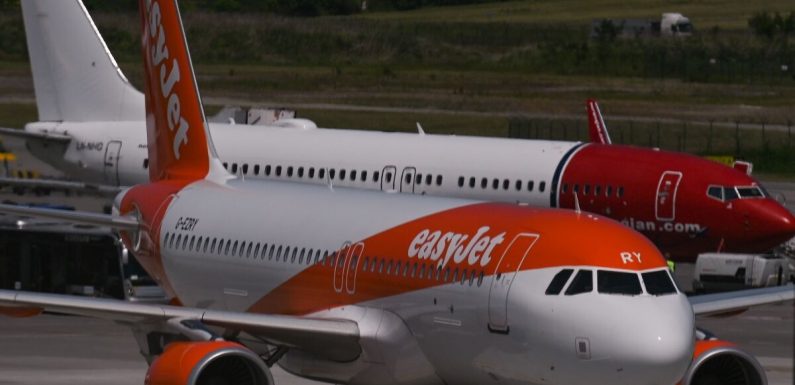 Simon Calder outlines customer rights after EasyJet cancellations
We use your sign-up to provide content in ways you've consented to and to improve our understanding of you. This may include adverts from us and 3rd parties based on our understanding. You can unsubscribe at any time. More info
Some passengers were given a few days notice of their cancelled flights but others only received a few hours. The budget airline has struggled with staff shortages.
Passengers travelling from Bristol to Lisbon were told at 5am on their day of travel that their flight was cancelled.
Cancelled flights include those to destinations including Catania in Sicily, Olbia in Sardinia and Marrakech in Morocco.
A flight between Edinburgh and Birimingham was also cancelled without much notice from easyJet.
The airline has struggled with staff shortages which have also impacted other airlines as well as airports.
easyJet Gatwick cancellations
Alicante
Bodrum
Catania
Faro
Krakow
Limoges
Lisbon
Malta
Marrakech
Marseille
Milan Malpensa
Montpellier
Munich
Olbia
Palermo
Paris CDG
Prague
Santiago
Seville
Verona
Zurich
easyJet Bristol cancellations
Belfast international
Inverness
Lisbon
Madrid
Naples
Paris CDG
easyJet Luton cancellations
Belfast International
Paris CDG
easyJet Edinburgh cancellations
Birmingham
All passengers are entitled to another flight on their intended day of travel if one is available.
This is the case even if the only available flight is on a rival airline to easyJet.
Passengers with short notice cancellations are also entitled to cash compensation of £220 unless the airline can prove the delay was due to "extraordinary circumstances".
This rises to £350 per passenger if the flight was due to travel over 1,500km.
BA, TUI and Wizz Air have also cancelled a range of upcoming flights with some taken out of the schedule weeks in advance.
Heathrow boss, John Holland–Kaye warned that the chaos could continue for 18 months and affect summer holiday plans.
Britons are advised to check the status of their flight before travelling to the airport and organise their hand luggage.
Travel expert Simon Calder, advised Britons to "make a fuss" if they are stuck in a long security queue.
Source: Read Full Article