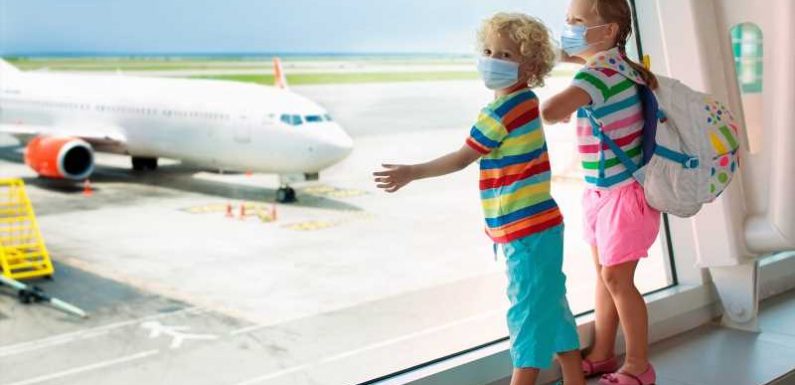 Load Error
At this time, more than 13% of the U.S. population has been fully vaccinated against COVID-19. And many of the people who have been vaccinated — or are scheduled to receive the vaccine soon — are thinking about their travel plans for 2021 and beyond.
But there's a noticeable group of people who have yet to be vaccinated: children. Children aren't yet eligible for vaccination, under current guidelines, and might not be for a while. 
Even if you haven't traveled since the onset of the pandemic, you probably won't be shocked to hear that flying with kids is a bit different than it used to be. Adults traveling with kids may, in some instances, have different travel requirements as a result of the pandemic. So, what does that mean for your family's travel plans?
Here's what to know about traveling when part of your family is unvaccinated. 
For more TPG news delivered each morning to your inbox, sign up for our daily newsletter.
Can children get a COVID-19 vaccine?
There is an age limit on all three vaccines available under the Emergency Use Authorization from the Food and Drug Administration (FDA). The Pfizer-BioNTech vaccine is available for people 16 and older, while the Moderna and Johnson & Johnson vaccines are available for adults who are over 18. 
"Children and adolescents outside these authorized age groups should not receive COVID-19 vaccination at this time," state guidelines issued by the U.S. Centers for Disease Control and Prevention (CDC). The CDC also says there are limited vaccine safety and efficacy data in this age group.
We know that children can become infected with COVID-19 and transmit it to others. According to data from the CDC, 226 children under 17 have died from COVID-19, though children have accounted for just under 12% of all positive cases.
But clinical trials for children have already started, and children may be able to get vaccinated as early as this fall, according to our colleagues at Healthline (which is also owned by TPG's parent company, Red Ventures).
Related: What you need to know about all the COVID-19 vaccines in the U.S.
Can children travel abroad if they haven't been vaccinated?
More than 90 countries have now reopened to U.S. tourists, and some of those countries have already announced plans to welcome back — or waive testing and quarantine requirements for — fully vaccinated travelers.
In some cases, being able to show proof of vaccination may be your only way in. Iceland, for example, said it would accept fully vaccinated travelers. These travelers would not be required to quarantine upon arrival. 
Children can enter Slovenia if they travel with a "close family member" who has not been required to quarantine or was otherwise restricted from entry. Though U.S. citizens are not allowed to enter Slovenia at this time, it's possible other nations will take a similar approach. 
Related: Can you skip quarantine if you've been vaccinated?
We can also look at the cruise industry for an idea about how destinations and travel providers might accommodate families who are traveling with unvaccinated children.
Two sister cruise lines, Royal Caribbean and Celebrity Cruises, said adult passengers would need to be fully vaccinated to sail when they resume operations in June. However, both lines said children under 18 could sail with proof of a negative COVID-19 test instead of proof of vaccination.
At this time, there is no vaccine requirement to travel back to the United States. U.S. airlines oppose travel vaccine requirements but asked the Biden administration to exempt vaccinated travelers from international testing requirements. 
If you're traveling back to the United States from abroad, you will still need to provide a negative COVID-19 test result before boarding — even if you've been vaccinated. All passengers 2 years of age and older traveling into the U.S. must provide proof of a negative test taken no more than three days before flying back to the U.S. 
Related: What you need to know about getting COVID-19 tested for US-bound international flights
Bottom line
It's not out of the realm of possibility that travelers, even children, may be required to be fully vaccinated against COVID-19 to visit certain countries or travel with certain providers.
We've seen this play out before with other vaccines required around the world.
The yellow fever vaccination, for example, is recommended or required for entry into countries such as Liberia and Uganda, while the meningococcal vaccination is required for travelers entering Saudi Arabia for the Hajj and Umrah pilgrimages. 
Infants and children 9 months or older can be vaccinated against yellow fever if traveling to endemic areas, but the vaccine shouldn't be given to infants younger than 6 months of age. Liberia requires a vaccination certificate only for travelers 9 months and older coming from a country with a risk of transmission, which doesn't include the United States. 
The meningococcal vaccine is recommended for all preteens and teens at 11 to 12 years old. Still, Saudi Arabia requires all travelers 2 years of age and older who are Hajj or Umrah pilgrims to be vaccinated.
Bottom line
There's still a lot that's unclear about traveling with children who are unvaccinated, but the cruise industry's plan to require that children test negative for the virus in lieu of having a vaccine points to the most likely trend. 
The travel industry won't want to alienate a large swath of travelers — and their parents — by barring access to children who have yet to be vaccinated. That means it's likely that unvaccinated children will have to use other methods to prove they're healthy, such as testing negative for COVID-19.
Featured photo by FamVeld/Shutterstock
SPONSORED: With states reopening, enjoying a meal from a restaurant no longer just means curbside pickup.
And when you do spend on dining, you should use a credit card that will maximize your rewards and potentially even score special discounts. Thanks to temporary card bonuses and changes due to coronavirus, you may even be able to score a meal at your favorite restaurant for free. 
These are the best credit cards for dining out, taking out, and ordering in to maximize every meal purchase.
—
Editorial Disclaimer: Opinions expressed here are the author's alone, not those of any bank, credit card issuer, airlines or hotel chain, and have not been reviewed, approved or otherwise endorsed by any of these entities.
Source: Read Full Article