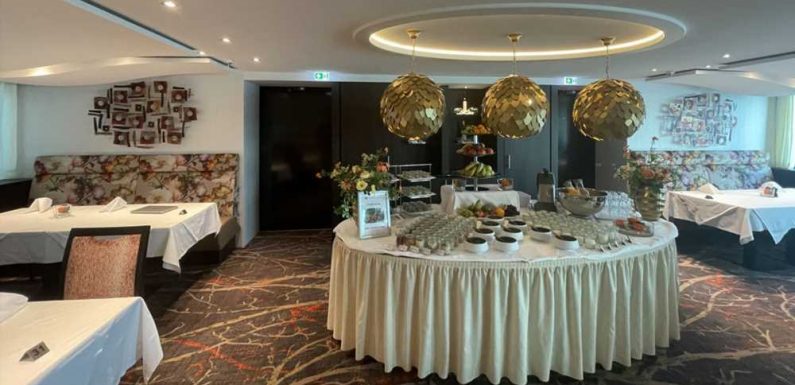 ONBOARD THE AMALUCIA — A desire to do away with buffets has been percolating in the mind of AmaWaterways president and co-owner Rudi Schreiner for a while, and enhanced sanitation measures surrounding the Covid-19 pandemic have pushed the idea into permanence.
"I wanted to do it years ago, and with Covid now it was like, 'Ok, let's do it,'" Schreiner shared.
We had recently boarded the AmaLucia, sailing from Amsterdam. The 156-passenger ship, a sister to the AmaLea and AmaKristina, is one of two new AmaWaterways vessels taking passengers in Europe this year.
"I'm the one who works on the food program, and I spent all last winter with our executive chef Robert on tastings and menus, and so on," Schreiner told passengers onboard the AmaLucia. "I always felt when I go out to a nice restaurant in Los Angeles, I don't get a breakfast buffet. I get a menu — and same for lunch."
On the AmaLucia there is still a breakfast display of fruit, croissants and the "vitamin bowl" du jour in the main dining room (apple-cinnamon chia), but on our first morning we were shown to a table and given an explanation of the menu. It includes a selection of choices to create omelets, waffles with a berry ragout, and the chance to customize an aforementioned vitamin bowl with fruit, seeds, nuts, grains and protein. It's the options of the buffet but made stationary, in part due to EU mask requirements for passengers when moving around in public areas of the vessel.
"When you go to breakfast, you will have a lot of choices," Schreiner forewarned us on our first night onboard. "Order. As. Many. As. You. Want. Order again, and again, and again. When you go to a buffet, you can fill up your plate. Here, you can order this and this, and just order the next thing. There are daily specials and unique specials every day.
"Try them, and if you don't want them, just don't eat them," he encouraged us.
At lunch, options in the dining room as we sailed to Cologne included appetizers of crispy fried calamari, hummus, tomato mozzarella salad and Asian duck breast salad. Salads were made to order as an appetizer or main course; there were two soups and one sandwich of the day; two mains, turkey saltimbocca or pappardelle pasta; and then an option called the Fisherman Station that featured a pot of saffron and tomato broth with shrimp, mussels, fish, roots vegetables and garlic bread.
Dinner, which has always been a la carte, is offered with complimentary wine pairings, and our first meal of a crab cake with wakame salad, oyster mushroom soup, beef tenderloin, a lemon and mint sorbet with sparkling wine and strawberries with ice cream and a Bailey's whipped cream was as expertly prepared as it was indulgent. 
As of this season, the entire AmaWaterways fleet has moved to an a la carte dining model for all meals. And to us, Schreiner's counsel to "Try it, do it, taste everything — don't be shy, don't feel guilty" sounds like wise advice all around.
Source: Read Full Article