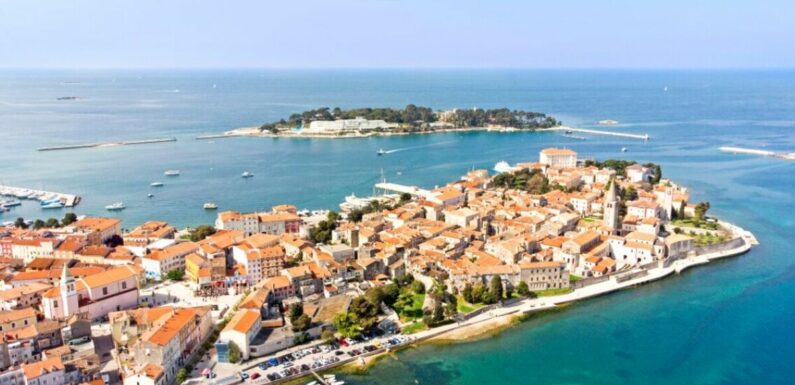 New research from the travel experts at Bounce has found this year's best bargain beach destinations. A gorgeous beach destination in Croatia is the perfect bargain hotspot for Britons.
Porec in Croatia was ranked one of the cheapest destinations for a beach holiday in 2023. The research found the average price of a meal at a cheap restaurant was just £5.
Meanwhile, Porec was the cheapest destination to buy a beer with the average cost of a pint just £1.
The popular holiday resort is on the Istrian Peninsula in western Croatia and has previously been named the country's best resort.
Porec has a historic Old Town, a stunning coastline and is just 6km from some incredible cave formations.
The Old Town is Porec's top-rated attraction on Tripadvisor and was described as "delightful" by tourists.
A tourist 'Chubb' wrote: "Beautiful town with some lovely little finds and the seafront walk is an absolute delight."
Another visitor 'tonyis' wrote: "Fascinating. The shopkeepers are friendly and very welcoming."
Tourists can explore the Euphrasian Basilica, which dates back to the 6th century and is incredibly preserved.
Don't miss…
I looked for the cheapest summer holiday flights – results[FLIGHTS]
'Fantastic' UK beach is the sunniest in spring[STAYCATION]
Cruise guest complains 'you have to pay extra' for everything[CRUISE]
The Basilica is an UNESCO World Heritage Site and offers free entry although tourists are invited to make a donation.
Further inland, tourists can visit the Baredine Cave to see an incredible formation of stalagmites.
Visitors descend a 300m long pathway to see the formations 60m below the ground. There's also an underwater lake.
Children might like to visit the town's Aquapark which has a wide range of slides and the longest lazy river in southern Europe.
Porec's city beach is very close to the Old Town and is backed by a pine forest which provides refreshing shade.
Delfin Beach is the perfect spot for swimming and has crystal clear water as well as jet ski rental.
Porec has a mix of beaches so whether you're looking for shingle or sand, there's bound to be something that suits.
After a day at the beach, tourists can head to a local cafe to enjoy a seafood meal or ice-cream.
The best way to reach Porec is to fly to nearby Pula, which is under an hour's drive away from the resort.
Tourists can fly direct to Pula from several of the UK's top airports including Bristol and Birmingham.
Although flight prices might be more expensive than to closer destinations such as France, tourists may find they make their money back on accommodation.
A study from the expert team at Wise found that Britons could save hundreds of pounds on accommodation and food in lesser-known destinations even if the initial cost of the flight was higher.
Source: Read Full Article