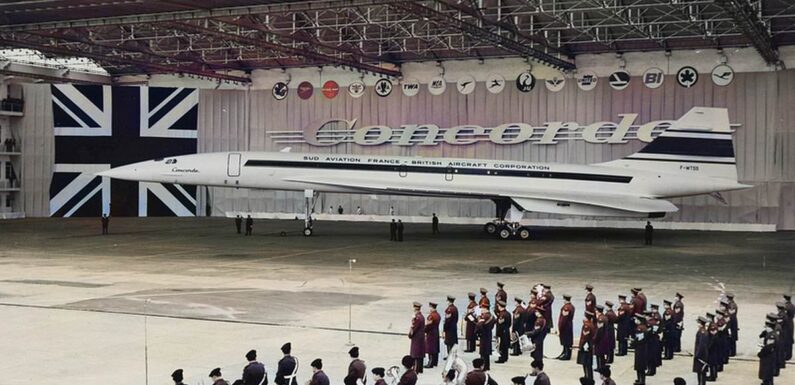 Birth of a legend: Fascinating colourised photos released of Concorde being built and unveiled to the public to mark the plane's first non-stop transatlantic flight at over 900mph
Concorde's first flight took place on the 2nd of March, 1969, with the prototype taking off from Toulouse
When the French test pilot landed Concorde for the first time, he simply said: 'The big bird flies…' 
During the first non-stop crossing of the Atlantic in 1973, the aircraft flew at an average speed of 954mph 
READ MORE: Fascinating map reveals every country's dream experience – and visiting the Maldives is No.1 
Fascinating colourised images have been released of Concorde's birth to celebrate the 50th anniversary of the supersonic aircraft's first non-stop crossing of the Atlantic, from Washington DC to Paris in a record-breaking time of three hours and 33 minutes on the 26th of September, 1973.
Images released by Topfoto show men hard at work on the plane, flight attendants lined up in front of the famous aircraft and you even meet the two pilots who test-flew the prototype, Mr Andre Turcat and Brian Trubshaw.
Concorde's first flight took place on the 2nd of March, 1969, with the 001 prototype taking off from Toulouse in France. When the French test pilot landed Concorde for the first time, he simply said: 'The big bird flies…' The British-made 002 prototype flew from Bristol's Filton Airfield in the UK a few weeks later. Both models were displayed at the Paris Air Show in June of the same year.
During the first non-stop crossing of the Atlantic on the 26th of September, 1973, the supersonic passenger aircraft flew at an average speed of 954mph to Paris-Orly Airport. This flight brought to an end a publicity tour of North and South America designed to convince reluctant airline companies to buy the aircraft.
The visit also coincided with the opening of Dallas Fort Worth Airport, Texas, on the 22nd of September, 1973, where Concorde touched down on American soil for the first time. Jointly designed and built by the French and British governments, with hundreds of private companies involved as subcontractors and suppliers, the planes were bought and run by British Airways and Air France.
Commercial flights to Bahrain started in 1976, but regular flights to New York did not start until 1977. In Britain, the development of Concorde was originally the responsibility of the Ministry of Aviation, with links to many other government departments, each of which had a Concorde Division working under a Directing Committee. Consequently, the National Archives holds thousands of files concerning Concorde from many different departments across central government, such as the Foreign Office, the Board of Trade, the Department of Industry, the Ministry of Aviation and the Civil Aviation Authority.
This image of a mock-up Concorde was taken in August 1963 at the UK factory site for the supersonic aircraft in Filton, just north of Bristol
A close-up of two of the four Rolls-Royce Olympus 593 turbojet engines that powered Concorde. This image was taken during the aircraft's public debut in Toulouse on the 11th of December, 1967
Concorde 001 on the tarmac at Toulouse on the 11th of December, 1967
Aviation journalists sit in a plywood version of the Concorde flight
Hostesses from 15 of the 16 airlines that originally ordered Concorde lined up in front of a full-scale model of the airliner at the Paris Air and Space Show at Le Bourget Airport in 1967. Left to right – Japan Airlines; Braniff; United Airlines; American Airlines; Trans World Airlines; Lufthansa Airlines; Pan-American Airlines; Eastern Airlines; Continental Airlines; Air France; MEA Air Libyan; Air Canada; British overseas Airway Corp, and Qantas
The two prototype test pilots at Toulouse – Mr Andre Turcat (left) and Brian Trubshaw
Concorde takes shape: A part of the cabin and a section of wing being worked on in Toulouse 
The prototype is pictured here on its public debut in Toulouse. Concorde's fastest-ever transatlantic crossing was on the 7th of February, 1996, when it completed the JFK to London Heathrow sector in just two hours, 52 minutes and 59 seconds
Fast fact – there are more US astronauts than Concorde pilots. Pictured above is the Concorde 001 prototype, unveiled for the first time
The tape is cut: Mr Wedgewood Benn, Minister of Technology, is seen with Jean Chamant, the French Minister of Transport, at Concorde's unveiling in 1967
This image of Concorde taking shape was taken on the 3rd of January, 1967, at the aviation factory in Toulouse
The Toulouse Concorde assembly line, pictured on the 4th of March, 1967.  Prototype 001 here has been elevated to just over 19ft from 11ft to allow installation of the nose wheel and other undercarriage sections
Due to supersonic heating of the airframe at Mach 2, Concorde's airframe stretched by 6-10 inches on every flight
LEFT: A model of Concorde taken in Bedford in the UK in 1964. During the first non-stop crossing of the Atlantic on the 26th of September, 1973, the supersonic passenger aircraft flew at an average speed of 954mph to Paris-Orly Airport
Source: Read Full Article