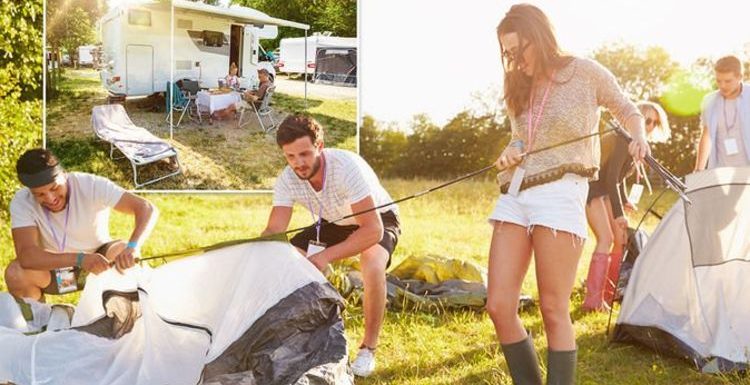 BBC Weather: Carol Kirkwood issues extreme heat warning
We use your sign-up to provide content in ways you've consented to and to improve our understanding of you. This may include adverts from us and 3rd parties based on our understanding. You can unsubscribe at any time. More info
Temperatures are hotting up across the UK, with regions in the south reporting average highs of up to 31 degrees celsius in the past week. For those heading on a camping staycation, it's likely welcome news.
In the coming weeks, Ed Bassett, general manager of Camptoo, is expecting campsites to be "very busy".
As a result of the ever-changing green list, the camping manager anticipates "an even busier staycation market this summer than last", and plenty of first-time campers trying out a tent holiday.
However, for novices heading out into the summer sunshine, there are some crucial things they should be aware of.
From scorching mornings waking up in a clammy tent to the risk of dehydration, campers who aren't prepared could find themselves facing an uncomfortable holiday.
According to Mr Bassett, holidaymakers should prepare in advance.
Luckily, the Camptoo manager shared some simple tips with Express.co.uk to ensure campers make the most of the sun-filled days.
One easy mistake to make, according to Mr Bassett, is to set off for a camping holiday at the wrong time of day.
"Ideally, holidaymakers should travel early in the morning or early evening to avoid the midday sun," he said.
DON'T MISS
Jet2, easyJet, TUI, BA & Ryanair updates amid amber list change [INSIGHT]
Holiday warning: Britons warned 'not to commit' to travel [WARNING]
US warns citizens against travel to the UK [COMMENT]
For those pitching a tent, doing so in the peak hours of sunlight can make for a sweaty experience.
Solar noon is often considered the peak of sunshine, as this is when the sun is highest in the sky.
Therefore, campers should aim to have their tent up by 12:00pm or begin pitching later in the afternoon.
As the expert explains, waiting until the heat is less intense will make the process of putting together your tent far easier.
For those heading on a caravan or camper van holiday, the location of their pitch can make all of the difference.
"Park in the shade wherever possible and ensure your vehicle is well-ventilated," recommended Mr Bassett.
"When parked, open the doors and windows to create a through-draft but also keep curtains and blinds drawn to block the sun's rays."
It's also important to check out the campsite map ahead of pitching, particularly in sites where pitches do not have their own private water supply.
Get the latest three-day weather forecast where you live. Find out by adding your postcode or visit InYourArea
"Make use of onsite taps to refill water bottles and make sure you always stay hydrated," said Mr Bassett.
"Ensuring dogs and children drink plenty of water is vital too."
Once pitched up, Mr Bassett recommends keeping to hand all of the basic summertime essentials, such as suncream and a sun hat.
"Sunscreen, loose clothing, a sun hat and breathable cotton bedding will also keep you cool during the day and when you sleep," he concluded.
Source: Read Full Article