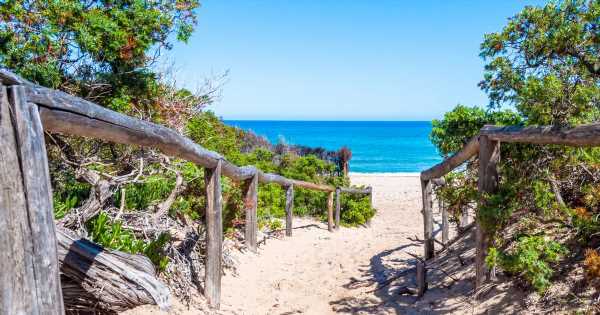 Plenty of Brits want to jet off somewhere sunny this year despite rising prices across the UK. After all, a bit of sand and sea can help you chill out after a long year at work.
But, rather than splashing out and thinking about the cost later it seems prices are at the forefront of our consideration when booking a holiday. Tripadvisor's Summer Travel Index has found that 81% of adults still plan to go on a trip this year, but 71% say price is the most important factor when deciding where.
READ MORE: Inside Albania's stunning Caribbean-like riviera with eight nights from £115
Luckily, there are plenty of destinations that are a little more affordable than a classic all-inclusive. Ksamil in Albania – sometimes likened to the Maldives – has proven popular with its super cheap deals.
But, according to the Tripadvisor report the fastest growing holiday destination is in Sardinia, Italy. The beautiful beach town of Badesi, on the northern coast of Sardinia took the top spot and we can see why as not only is it gorgeous and filled with things to do, but it's also cheap.
Badesi is known for its azure blue ocean, bright white beaches and incredible sunsets – so much so that it's been dubbed the "California of North Sardinia". As a small fishing village, the area is also peaceful and filled with outdoors pursuits to enjoy.
Of course, if you choose to you can opt to sunbathe all morning, dine on Sardinian wine and regional foods like fresh seafood, suckling pig, sea urchin spaghetti culurgiones (a type of pasta dumpling). But, you can also go kayaking on the Coghinas river, horse riding through the beautiful landscape and wine tasting in the sunshine.
The best part is though that Badesi is affordable. According to Hiker's Bay a bottle of beer in Sardinia will set you back just £1.10 at the supermarkets in the area. While a half-decent wine will cost less than a fiver.
The site claims that a typical espresso is just 81p in Sardinia while meal in a cheap restaurant will set you back just £10. It also states that in 2023, a meal for two with three courses will cost about £43 and a beer while out will be around £2.60.
Sounds pretty perfect to us – especially if you choose to go self-catering for part of your trip – as local beer at the shops costs just 91p a bottle. Plus, it's not just dining out that's far more reasonable than in the UK.
The average cost of a hostel in the area is about £30 while the cheapest hotel we found cost just £56. Hotel Marina, just 1.5miles from the beach and 0.4miles from the centre of Badesi will set you back £28 each per night shared between two people on booking.com.
If you want to go self-catering you can rent an entire two bedroom house with three beds that can sleep up to six people. The "Maison" has a swimming pool and access to a restaurant, bar and ATM while also being just steps from the beach.
The holiday home – with a terrace and mountain views – costs from £98 a night for six people working out at just £16.30 per person. Plus, you can make the most of those 91p supermarket beers and sip them at the outdoor dining table. According to Tripadvisor, the cheapest time of year for Badesi is around June 5.
Alice Jong, Research and Insights Senior Analyst, Media at Tripadvisor said: "With so many eager to get away this summer, early planning and booking are vital to secure preferred accommodations, flights, and experiences. With many consumers conscious of cost in the current climate, a little flexibility during the planning process can help to drive down the price of their trips.
"For example, when we look at the top destinations over the next three months, Paris hotel prices are lowest during the week June 19-25, while August 28 – September 03 is the most affordable week to visit London."
Brits looking for other top notch, and cheap, destinations have plenty to choose from. Pag island, in Croatia, has a famous beach filled with clubs, beach parties, restaurants and bars that host famous DJs and rival party town like Magaluf, Ibiza, Benidorm and Sunny Beach
Thankfully, compared to major party spots like Ibiza, Croatia is relatively cheap! If shopping at a restaurant or bar a bottle of domestic beer will cost just £2.09 (€2.39)and imported beer is slightly costlier at £2.31 (€2.65), reports Numbeo.
Beer is even cheaper at supermarkets ranging from €1.27 to €1.71 (£1.11 to £1.49). An inexpensive meal out in Croatia costs from around €8.06 (£7.04) while a meal for two at a mid-range restaurant getting three courses will cost around €39.86 (£34.80).
Meanwhile, those who prefer a beachy trip abroad without clubs and parties can find flights from as cheap as £11 using a clever Google Flights hack. Our own reporter bagged a journey to Porto, in Portugal, for just £12.
READ NEXT:
Mum went on 8 holidays with flights from £16 – and always got back in time for work

Groupon launches £99 holidays to the Maldives, New York, Dubai and Santorini

Europe's best party spots with epic pool parties, cheap booze and flights from £22

Benidorm lad spills resort secrets – 88p pints, £2 fry-ups and getting drunk for 'nowt'
Source: Read Full Article