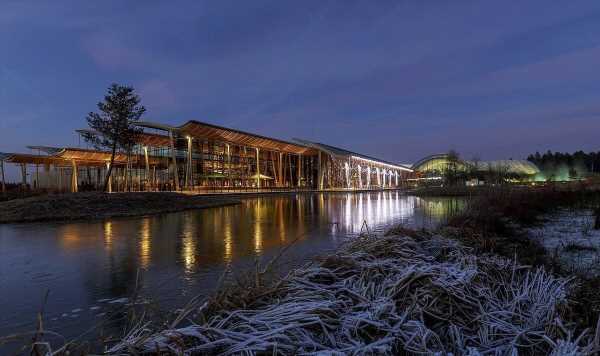 Brits are mesmerised by this French Center Parcs which they say is way better than anything the brand has on offer in the UK.
One family of four from Uttoxeter, who stayed at the Center Parcs in Hattigny France for ten days, proclaimed the resort was so good in terms of value for money they would "never go back to a UK site again".
Les Trois Forests, rated an average of three and a half stars based on 13,315 reviews on TripAdvisor, has everything you could want from a Center Parcs.
Located just a three-minute drive from Hattigny, in north-eastern France, it has a mega indoor pool, its villas are said to be "impeccably clean" and it has a farm, which is a "lovely addition" for kids, according to the family.
Don't miss…
The beautiful villages in Italy where residents enjoy long life[INSIGHT]
Britain's best seaside destination for autumn sun has 'beautiful beaches'[INSIGHT]
Hearty Austrian food and spectacular views make learning to ski extra special[LATEST]
It's home to Aqua Mundo, Center Parcs "unparalleled famous water park" with a snorkelling pool, wave pool and wild water rafting.
Hattigny is a small village in the Moselle area of the Grand-Est region in France. 
The village is close to some of the most beautiful villages in Alsace, such as Saint-Quirin, Obernai and Mittelbergheim.
Saint-Quirin is home to a fantastic glass-making workshop named Atelier de Verrerie "Verre-Luisant".
The Eglise Priorale Les Sept Roses in the same village is also a stunning sight – great for people who enjoy traditional French architecture.
Similarly, Sarrebourg, close to the Center Parcs is home to the gorgeous Chapelle des Cordeliers.
We use your sign-up to provide content in ways you've consented to and to improve our understanding of you. This may include adverts from us and 3rd parties based on our understanding. You can unsubscribe at any time. More info
Despite the holiday centre being a hit for Brits, others on TripAdvisor have been quick to highlight its pitfalls.
One Dutch user who rated the resort two stars says:" So why a poor judgement? this lies in how the staff treats you. This is a common case of simply being rude.
"As soon as it is said that you do, or do not fully master the French language, the switch goes to 'I ignore you', with these people."
Source: Read Full Article