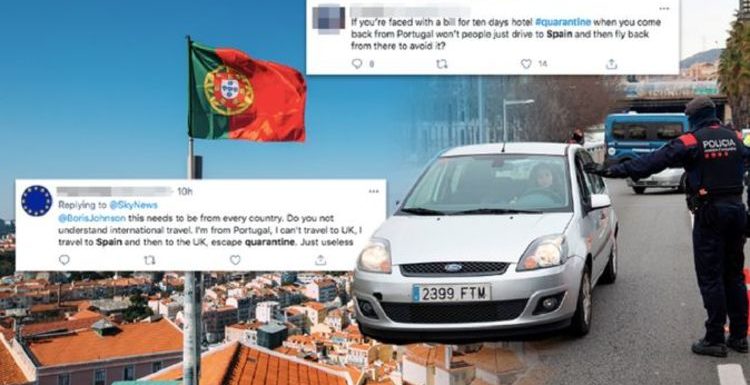 Priti Patel reveals government's new travel quarantine rules
Yesterday Prime Minister Boris Johnson announced the implementation of quarantine hotels, which will see arrivals from certain "red list" countries being required to undertake mandatory isolation in a government-approved hotel. Much-love holiday destination Portugal has been included in the list of 30 countries.
Portugal is a much-loved holiday destination for Britons, as well as a popular expat hotspot.
There are approximately 60,000 expats from the UK currently living in Portugal, according to data from Propertyguides.com.
Meanwhile, around two million Britons jet off to the sunshine hotspot for a holiday every year, with the Algarve attracting 1.2 million Britons alone in 2019.
Yet the new rule will likely see travel numbers, along with confidence in future holiday bookings drop.
Despite the stringent rules in place to curb the spread of new coronavirus variants, some travellers have pointed out ways around the current rule.
We will use your email address only for sending you newsletters. Please see our Privacy Notice for details of your data protection rights.
However, some travellers have taken to Twitter to point out ways around the "useless" rule.
"If you're faced with a bill for ten days hotel #quarantine when you come back from Portugal won't people just drive to Spain and then fly back from there to avoid it?" wrote one Twitter user.
Another user commented: "There are always ways around it if you would want to, it's impossible to make it 'watertight'.
"I personally wouldn't like it on my conscience, but I'm sure some don't care, unfortunately."
Others questioned why the rule was only applicable to arrivals from some countries, rather than to all international arrivals.
DON'T MISS
Spain holidays: Spain could ban tourists 'until August' [COMMENT]
Google Maps Street View: Creepy 'dead bodies' spotted in Chile [VIRAL]
Pound euro exchange rate 'held up admirably' amid vaccine boost [GRAPH]

"People from #Brazil are arriving in #uk from #spain #frankfurt to avoid quarantine Surely anyone flying into #uk should go into hotel quarantine like other countries have done?" wrote one Twitter user.
A second directed their comment at Prime Minster Boris Johnson, saying: "This needs to be from every country. Do you not understand international travel.
"I'm from Portugal, I can't travel to the UK, I travel to Spain and then to the UK, escape quarantine. Just useless."
Portugal's travel connections to Brazil have been a leading factor in the decision to stop travel with the UK.
It comes following a new strain of COVID-19 which was detected initially in Brazil.
The Foreign, Commonwealth and Development Office explains: "The UK government suspended direct flights from Portugal, including the autonomous regions of Madeira and Azores, to the UK on January 15.
"Visitors who have been in or transited through Portugal, including the autonomous regions of Madeira and Azores, in the previous 10 days cannot enter the UK.
"British and Irish nationals, and third-country nationals with residence rights in the UK arriving in the UK from Portugal, including the autonomous regions of Madeira and Azores, will need to self-isolate along with their households on their return."
However, the new hotel quarantine rule means this self-isolation period must be undertaken in government facilities, such as hotels, to ensure arrivals do not leave their rooms.
Home Secretary Priti Patel explained details of the new rule in the House of Commons on Wednesday.
She said: "For those entering the UK there will be more measures. First off, the police have stepped up checks and there will be more physical checks at dresses to make sure people are complying with the self-isolation rule.
"Second, we will continue to refuse entry to non-UK residents from red list countries which are already subject to the UK travel ban.
"Third, as the Prime Minister has said, we will introduce a new managed isolation process in hotels for this who can not be refused entry including those arriving home from countries where we have already imposed international travel bans.
"They will be required to isolate for 10 days without exemption, and the Department of Health and Social Care will set out further details on this approach next week."
Source: Read Full Article