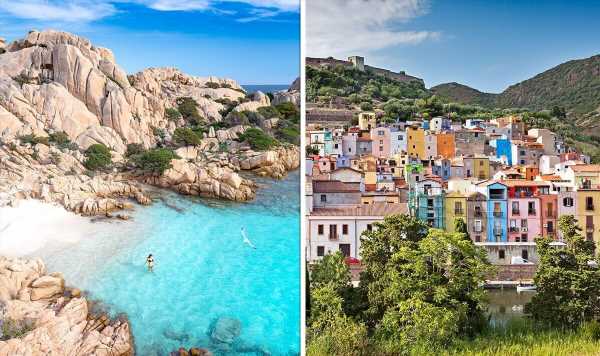 We use your sign-up to provide content in ways you've consented to and to improve our understanding of you. This may include adverts from us and 3rd parties based on our understanding. You can unsubscribe at any time. More info
Some areas of Sardinia have less than 3,000 people living there and the island has a £38million plan to encourage people around the world, especially young people, to move to the beautiful Italian destination.
Sardinia is offering £12,600 per person to move to certain areas on the island, including very small and remote towns where only a few hundreds of locals live.
The money people receive must go towards buying a house or renovating a property in the town.
Sardinian President Christian Solinas explained: "We have created the conditions for young people to decide to stay and (develop) the economic fabric of the most fragile territories.
"Thanks to the contributions to their first houses, this is strengthened and becomes fertile ground for those who will move there or decide to build a family.
"There can be no growth without a real enhancement of the territories, of the interior and most disadvantaged areas, which must pass through new policies for their repopulation."
Sardinia is one of the most beautiful islands in the Mediterranean, famous for its turquoise water and white sand beaches.
Some of the most stunning beaches on the islands are Porto Giunco, Spiaggia di Punta Molentis, Lu Importu Beach and Spiaggia di Porto Sa Ruxi.
Traveller Dream67436093271, who recently visited Porto Giunco, said on Tripadvisor: "Amazing beach, the water is crystal clear and the sand glitters a bit.
"On the weekend is quite crowded but only on the sand and not in the water."
Another one, usach, who travelled to Sardinia a few weeks ago said about Spiaggia di Porto Sa Ruxi: "This beach is absolutely amazing. You can snorkel and see fish. A must go to!"
Travellers should note, however, that most beaches in Sardinia come with an entry or parking fee.
Holidaymakers who want to visit Spiaggia di Porto Sa Ruxi must pay a 10 euro parking.
Spiaggia di Punta Molentis has an entry fee of six euros for the car and one euro for each person.
British tourist Darius C explained it is "definitely worth visiting" but warned "you have to book in advance for a sure visit during high season (even in September)".
Sardinia also has beautiful towns such as Alghero, San Pantaleo or Villasimius.
It only takes two hours and a half to get to Sardinia from a UK airport and flight prices start at £48.
But Italy is not the only country looking for people to relocate to its islands.
Earlier this year, Scotland announced its plan to encourage people to move to the beautiful Scottish islands.
The country offers families and young people £50,000 to buy a house and start a new life in an idyllic and remote town.
The Scottish Government scheme's aim is to reduce depopulation in Orkney and the Isle of Skye.
Source: Read Full Article