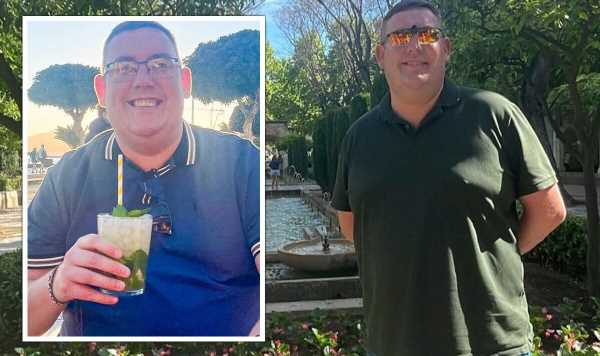 Spain: James Cleverly is asked about Gibraltar entry 'stunts'
We use your sign-up to provide content in ways you've consented to and to improve our understanding of you. This may include adverts from us and 3rd parties based on our understanding. You can unsubscribe at any time. More info
Regional governments sparked outrage earlier this week after it was revealed that there is a "six drinks a day" rule for all-inclusive holidays in certain resorts. The newly imposed rules are in place in some parts of Majorca and the Balearics. The rules have been put in place by regional governments to address the over-consumption of alcohol and anti-social behaviour.
Jason Walker, a British tourist on holiday in Majorca, was confronted by the rules on his recent holiday to Majorca.
The 42-year-old was left "upset and angry" by the new rules and had to pay "extra costs" as a result.
Jason had paid £240 for an all-inclusive three-night trip to celebrate his cousin's birthday with Love Holidays.
He had assumed the all-inclusive holiday would entitle him to as much food and drink as he wanted.
READ MORE: Flight attendant on why Meghan and Harry didn't pay bill on flight
However, during his stay Jason was left astounded after he was told there was a limit on how much free alcohol he could consume.
He said: "We only found out when we checked in and only budgeted so much because we thought all our food and drink would be covered.
"We were very upset and angry.
"We've come as a family of eight to celebrate my cousin's 40th and while we have still had a good time, we have incurred extra costs as a result."
Jason is urging fellow holidaymakers visiting similar Spanish resorts to check the small print of their all-inclusive deals.
DON'T MISS
US holidays: Will the USA drop Covid entry requirements? [INSIGHT]
Spain holiday warning as Canary Islands face toxic jellyfish alert [UPDATE]
Check your passport! 4 key passport checks to make before travelling [ANALYSIS]
A Love Holidays spokesperson told Sun Online Travel: "We were sorry to hear that the customer was disappointed with their stay at the Aluasun Torrenova hotel.
"Unfortunately, on this occasion, the customer did not get in touch to raise the issue. As such, we have not had the opportunity to address the query with the customer.
"A decree issued by the Balearic Government restricts alcoholic drinks to a maximum of six per person per day for the all-inclusive meal option.
"Taking this into consideration, we detail the drinks available to the customer on the hotel details page under the heading 'All Inclusive'.
"In this case the hotel details specify – Selection of Spanish and international non-alcoholic drinks. Three alcoholic drinks per person (beer and wine) during lunch and dinner.
"We would always urge customers to read the details of their hotel to ensure they are happy with their purchase."
The new rules were first introduced in January 2020, however, it seems British holidaymakers are only coming face-to-face with the rules now as they arrive on the islands for their spring holidays.
There are also bans on happy hours, alcohol vending machines, free bars, pub crawls, two-for-one drinks and the advertisement of party boats.
Shops are also not allowed to sell alcohol between the hours of 9.30pm and 8am.
Balearic Islands Tourism minister Iago Negueruela previously said: "We want British tourists – we don't want this type of tourism.
"British tourism is essential for our islands. We share with the British government the view that some images of British tourists are embarrassing.
"We want to put a stop to bad behaviour. We will increase the police presence in these areas and the number of inspectors – we will have zero tolerance for tourism excesses."
Currently, there are no such rules in place for resorts in mainland Spain.
Travel agency Thomas Cook has alerted their customers about the rules on their package holidays.
An email read: "Please be advised that a decree has been issued by the Balearic Government on a new restriction for All Inclusive meal option.
"There is a maximum of six alcoholic drinks per person per day that can be served and these drinks will be provided only during lunch and dinner (Three each).
"Please be aware that Magalluf, El Arenal, Playa de Palma in Mallorca and Sant Antoni in Ibiza, there is new restriction on All Inclusive."
Source: Read Full Article