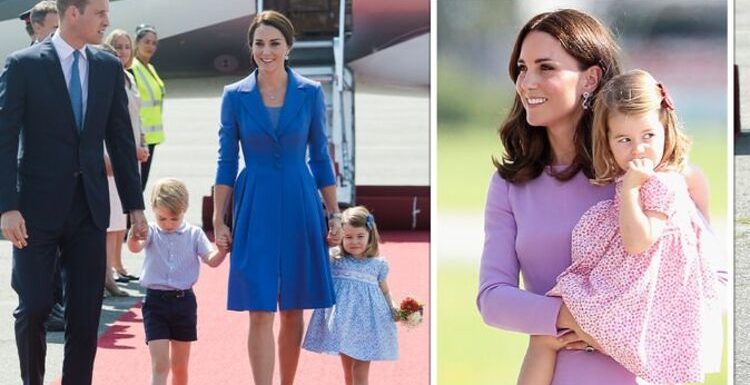 We use your sign-up to provide content in ways you've consented to and to improve our understanding of you. This may include adverts from us and 3rd parties based on our understanding. You can unsubscribe at any time. More info
When it comes to packing her luggage, the Duchess of Cambridge has her own preferences and secret hacks.
It is believed the Duchess of Cambridge wraps all her clothes with tissue paper.
The dresses, on the other hand, are always placed in individual clothes carriers.
This is a well-known travel hack to ensure the clothes don't get creased and are ready to be worn as soon as Kate and William land and before they get to their accommodation if needed.
Meghan Markle said during an interview she also has her own trick when it comes to packing a travel bag.
The Duchess of Sussex explained she places tumble dryer sheets between items of clothing to keep them smelling fresh.
The Duchess of Cambridge also makes sure she always wears wrinkle-free travel clothes, especially on long flights.
That way, she always looks flawless when disembarking the plane.
The trick is to wear clothes made of specific fabrics such as polyester, nylon, acrylic or olefin.
Scott Henshall, former creative director of Mulberry, explained: "All the Duchess or her 'people' have to do is familiarise themselves with the best wrinkle-free fabrics."
The Duchess always brings her personal hairstylist, Amanda Cook Tucker, to all her royal trips.
Amanda has helped Kate get ready before disembarking the plane when journalists are waiting outside many times.
But what items does the Duchess of Cambridge always carry in her hand luggage?
The Duchess reportedly likes to carry a compact mirror, blotting paper, a handkerchief and lip balm.
It is believed Kate also likes to have a moisturiser with SPF and a hydrating face mask while flying.
In October 2021, the Duke and Duchess of Cambridge and their children, Prince Louis, Princess Charlotte and Prince George, were spotted at Heathrow airport preparing for a holiday abroad.
The family were seen at the Windsor Suite in Heathrow with their security team and their nanny Maria Borrallo.
For the trip, Kate opted for a very comfortable but stylish outfit. The Duchess wore a long blue dress, white trainers and a straw handbag.
Royal fan @veronicabellingredsetter commented on social media saying: "Kate looks fab and so slim!"
During another official trip, the couple visited Ireland and were photographed while getting off the plane.
Royal watcher @pinkairfish said: "Kate looking stunning. Thank you both for visiting our country."
Source: Read Full Article