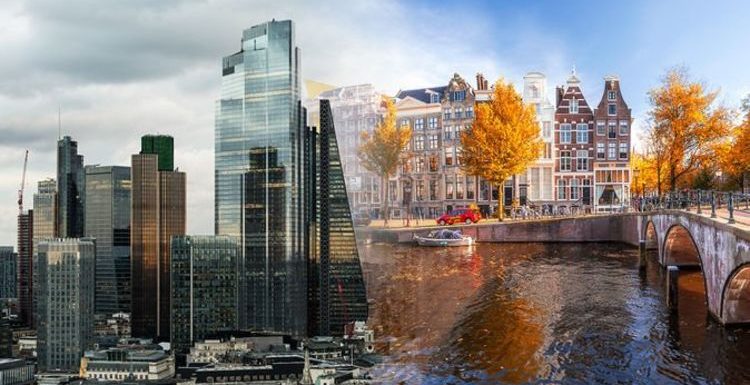 Amsterdam: Expedia advise on what attractions to visit
A year of lockdowns and stay at home orders may have many people reconsidering their current living situations. According to a new survey, it seems some cities around the world boast a "happier" and even "healthier" lifestyle than others.
The Healthy Lifestyle Report from Lenstore has analysed 44 global cities across 10 metrics to determine which regions offer the most opportunity for a "happy and healthy lifestyle".
Metrics measured by the experts include sunshine hours, cost of a bottle of water, obesity levels nationally, life expectancy, pollution score, annual working hours, happiness levels nationally, outdoor activities on offer, number of take out restaurants and the average cost of a monthly gym membership.
Based on these factors, it was Amsterdam in the Netherlands which took the crown as the "best city to live a happy and healthy life".
The city clocks in a toasty 1,858 hours of sunshine every year, with inhabitants working an average of 1,434 hours annually.
We will use your email address only for sending you newsletters. Please see our Privacy Notice for details of your data protection rights.
Nationally, happiness levels of citizens come in at an impressive 7.44.
The city is also excellent for those looking to enjoy the outdoors, with plenty of opportunities to bike around the urban landscape.
Overall, the Netherlands is ranked as the fifth happiest country in the world.
Meanwhile, it is the sixth-best country in Europe when it comes to obesity levels, with just 20.4 percent of citizens being determined as medically obese.
DON'T MISS
Dubai holidays: FCDO travel advice as new Scotland quarantine begins [TRAVEL ADVICE]
Flights: Expert dubs airlines 'guilty' of mishandling refund claims [COMMENT]
Holidays: Britons can travel 'from March' but book now says expert [INTERVIEW]
In second place is Sydney, Australia.
The city down under is ideal for those who enjoy the sunshine, with citizens soaking up 2,636 hours per year.
Thanks to this, there are plenty of opportunities to enjoy outdoor activities, perhaps why fitness is so popular in the nation.
Happiness levels across Australia clocked in at 7.22, meanwhile, inhabitants work around 1,712 hours weekly.
Other cities listed in the lifestyle index include Vienna, Stockholm, Copenhagen, Helsinki, Fukuoka, Berlin, Barcelona, and Vancouver.
However, when it came to the UK's ability to provide a "happy and healthy lifestyle", the nation's metropolises did not fare well.
London ranked in the bottom 10 cities, with limited sunshine and long working hours.
What's more, the capital ranked at the "world's seventh unhealthiest city".
Though the capital holds the second-highest number of outdoor activities on offer, its 1,633 sunshine hours made these hard to enjoy.
Furthermore, the city was also penalised for its abundance of take-away food outlets.
Roshni Patel from Lenstore explained: "Our health has never been more important and it's really interesting to see that leading a healthy and happy life can be influenced by your location by such a significant amount.
"The shorter working weeks and low pollution levels have proved greatly successful for cities in the north of Europe such as Copenhagen and Stockholm, despite these locations receiving some of the lowest hours of sunshine each year.
"Keeping fit and healthy can also become costly with gym memberships and costs of groceries varying in different cities. It's great to see cities with hundreds of outdoor activities that can be enjoyed for free.
"With many different factors, it's important to consider which are the most important to you to lead the healthiest and happiest lifestyle you possibly can."
Source: Read Full Article