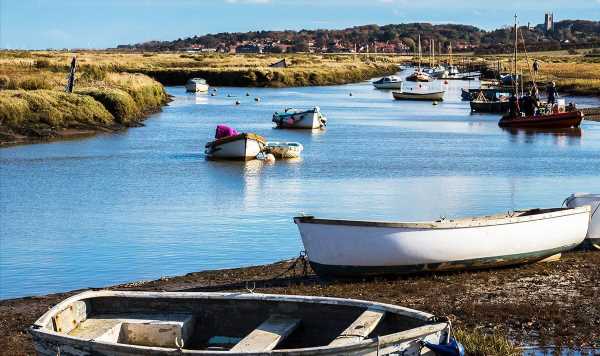 As the temperature drops, it's the ideal time to wrap up warm and explore the UK on a bracing autumn walk. A team of experts have found some of the best.
The travel expert team at Holidaycottages.co.uk have uncovered some of the UK's most breathtaking autumn walks.
One of the prettiest walks for the autumn season is in Norfolk at Blakeney Freshes, in the atmospheric town of Blakeney. The walk is rated easy and suitable for a range of abilities and it covers around three miles of the Norfolk Coast Path.
A spokesperson said: "Set on the stunning Norfolk Coast Path, this is an easy three-mile walk with amazing views across the sea, marshes and Blakeney National Nature Reserve.
READ MORE 'Beautiful' European city is one of this year's cheapest autumn city breaks
"Bird lovers should take a stroll here and keep an eye out for the vast wildlife that resides within it.
"On a cold autumn morning, you'll catch the mist rising and may even be able to spot golden plovers!"
Blakeney is also famed for its seal population and from November tourists may be able to catch a glimpse of baby grey seals.
Blakeney Point is home to England's largest grey seal population and over 4,000 pups are born there each winter.
Don't miss…
Dreamy and 'affordable' Greek island is a top destination for British expats[EXPATS]
Breathtaking European country has four tourists to every resident[CROWDS]
Cruise guest complains as rude people ruin their buffet experience[CRUISE]
Blakeney Village sits within an Area of Outstanding Natural Beauty and has several cute pubs to shelter in if the weather is bad.
It's famous for crabs and children can have a go at crabbing from the village quay but remember to return the crabs to the water.
Although the Blakeney Point walk isn't that far, much of the walk is on soft shingle which can be tricky to walk on. The walk is generally easier at low tide.
Tourists should stick to the paths and obey all signs as disturbing the breeding wildlife can be a prosecutable offence.
Advert-free experience without interruptions.
Rocket-fast speedy loading pages.
Exclusive & Unlimited access to all our content.
If you fancy staying in the area a little longer, HolidayCottages.co.uk has a number of gorgeous holiday rentals in Blakeney and the surrounding area, with last-minute stays from £462 this October half term. 
For those looking for a solo retreat or couples escape, the quirky Dinky Cottage in the heart of Blakeney still has availability for four nights from October 23, 2023. 
Or, if you are hoping for a family holiday Hidden Like Cottage in Blakeney has received an almost £200 discount. The cottage sleeps up to six people and has space for two dogs, and is currently available for four nights from October 23, 2023, from £795. 
And if you fancy an autumnal walk elsewhere, why not check out another breathtaking autumnal walk in the Peak District?
Source: Read Full Article