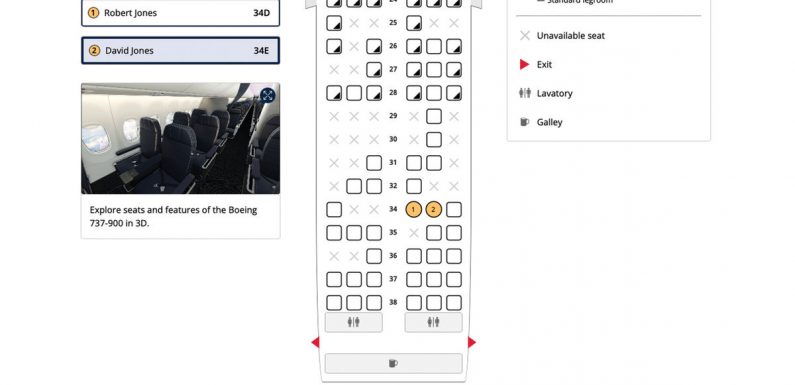 A United Airlines technology upgrade will make it easier for children 11 and under to sit next to an accompanying adult without extra charges.
In addition, policy changes by the airline will guarantee that children can sit with an adult guardian free of extra cost, provided the traveling party is willing to switch flights if necessary. 
With the changes, announced Monday, United became the first U.S. carrier to say it was overhauling its approach to family seating since President Joe Biden and the Department of Transportation announced this month that new regulations are being drafted that will require airlines to guarantee they will seat a parent and a child together at no extra cost.
Frontier makes a similar move
Frontier followed suit on Tuesday, saying that over the past several months it has undertaken measures to ensure children 13 and under are seated with at least one adult in their party at no additional charge. 
The carrier explained that it now automatically assigns seats based on family member's ages before the check-in window opens. 
Nevertheless, Frontier's booking window still encourages families to pay in advance for adjacent seats. "We recommend you select your seats now to ensure your party sits together. Getting seats together the day of travel can be difficult," reads a pop-up generated during bookings that include children. "If seats are limited, we'll assign seats to the extent possible so children 13 and under are seated next to a passenger 14 years or older traveling on the same reservation."
United chief customer officer Linda Jojo didn't mention the planned DOT regulatory action in a prepared statement on Monday. 
"In an era where more families are working in a hybrid environment, they're traveling more often — and they're flying United," Jojo said. "We're focused on delivering a great experience for our younger passengers and their parents and know it often starts with the right seat. We look forward to rolling out more family-friendly features this year."
Capabilities going into full effect in March
United said the new seat map feature capabilities have already been implemented on some flights and will go into full effect in early March. The feature will dynamically find available adjacent seats at the time of booking for parties that include a child 11 and under. The engine first reviews all available free economy seat assignments. If no adjacent free seats can be found, it will provide the option of booking preferred economy seats, for which the airline typically collects a fee, free of charge.
The technology upgrade will also enable Basic Economy flyers traveling with children, who typically must pay for all advance seat assignments on United, to select adjoining seats free of charge. 
United did not say whether the new feature will be available for bookings made via GDSs and other third-party booking channels or only within direct channels. 
The booking engine won't offer families the option to select extra legroom Economy Plus seats, or to select adjacent seats in higher cabin classes. But in cases in which no adjoining options are available in free economy seats or preferred economy seats the carrier has enacted a new policy allowing flyers to switch for free to a flight to the same destination with adjacent seat availability. Flyers won't be charged if there is a fare difference between the original and new flights.
United, like all the 10 largest U.S. carriers, has never specifically charged a fee for families to sit together. But the increasing imposition by United and other U.S. airlines in recent years of upcharges for the pre-flight selection of specific seats has meant that children sometimes cannot be guaranteed a seat next an accompanying adult without an extra cost.
Source: Read Full Article