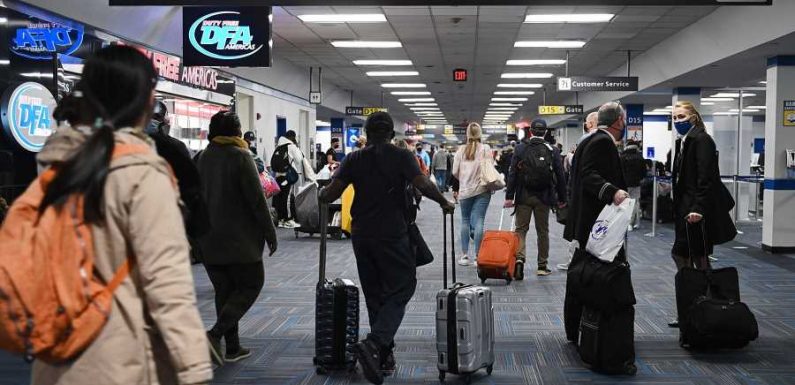 The Transportation Security Administration (TSA) screened a record number of travelers over New Year's weekend since the pandemic shut down travel in March. 
On Sunday, Jan. 3, the TSA screened more than 1.3 million travelers in airports across the country, the highest number of travelers in a single day in about 10 months, according to the agency's preliminary travel numbers.
While the number is notably high, it is also to be expected. 
"Yesterday would typically be one of the busiest travel days of the year as families return from what is often a two-week school vacation surrounding Christmas and the start of the new year," TSA spokesperson Lisa Farbstein tweeted on Monday.
The previous day, the TSA saw its third-highest record day of pandemic travel, with almost 1.2 million travelers passing through security checkpoints on Saturday, Jan. 2. Over the three-day weekend period, the TSA screened more than 3.3 million travelers. 
Although the numbers are notably high compared to the previous months, they pale in comparison to what the TSA would normally process. Last year, on the Sunday after New Year's, the TSA screened more than 2.4 million travelers. 
Since the pandemic began, there have only been 16 days where the TSA processed more than 1 million passengers. The first day of more than 1 million travelers was mid-October. At its lowest point, the TSA was processing fewer than 100,000 passengers per day in April. 
Record numbers at TSA checkpoints have been consistently growing since Thanksgiving, despite warnings from epidemiologists to avoid travel at this time. 
While millions of people may have traveled for the holiday period, they were more likely to choose "hometown" destinations, rather than international vacations. Cities like Atlanta, Denver, and Dallas were trending holiday travel destinations, according to travel app Hopper. 
Cailey Rizzo is a contributing writer for Travel + Leisure, currently based in Brooklyn. You can find her on Twitter, Instagram, or at caileyrizzo.com.
Source: Read Full Article