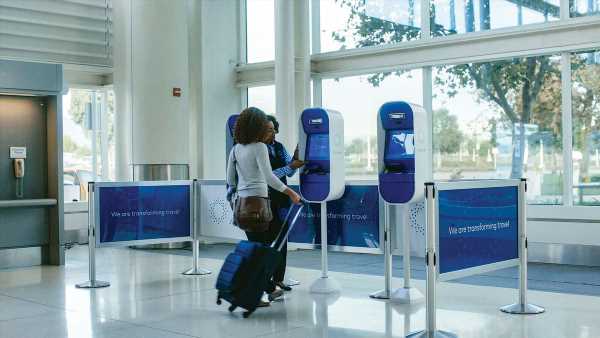 More stringent rules on identification checks are coming for members of the Clear registered traveler program in the wake of reported security breaches, the TSA says.
However, the agency isn't talking about the timeline for those changes.
Mandating ID checks upon Clear members would be a blow to the biometrics company, which operates its own lanes at TSA checkpoints in more than 50 airports and sells $189 annual memberships with the promise that members won't wait in line to show identification.
In June, the TSA provided Clear with proposed updates on how it will manage ID checks.
The agency said it would eventually require all Clear members to present identification at airport checkpoints in which the TSA has installed new ID authentication technology. That technology, which verifies a passenger's identity and flight itinerary with an ID only — no need to show a boarding pass — is now in 224 airports, or a little more than half of the roughly 430 federalized facilities, TSA spokesman Carter Langston said.
Clear, however, said it is developing a workaround in cooperation with the agency.
"We have been collaborating with [the Department of Homeland Security] and TSA since 2020 to digitally transmit all Clear members' identifying information to TSA next-generation hardware," a company spokeswoman said in an email. "This will avoid the need for passengers to present their physical IDs."
Reported security lapses at Clear lanes
Scrutiny of Clear has increased over the past year due to reported security lapses, which have garnered congressional attention.
Last December, Rep. Bennie Thompson, D-Miss., who was then the chairman of the House Homeland Security Committee, and former New York Rep. John Katko, who was then the committee's top-ranking Republican, wrote TSA administrator David Pekoske requesting that, due to "security vulnerabilities," all flyers, including Clear members, be required to present IDs at airport checkpoints, effective immediately.
TSA won't comment specifically on the security breaches in question, but news outlets have detailed three incidents over the past 13 months. In a July 22 incident reported by Bloomberg, a man was able to enroll in Clear using someone else's ID. Though Clear's technology caught the discrepancy, an employee waived him through a TSA checkpoint. The man was later discovered by the TSA to be traveling with ammunition in his carry-on bag.
In early August, Politico reported on two additional breaches, one in January and one in March, which have since been confirmed by Clear. In both incidents, a Clear employee guided a flyer who was not enrolled in Clear through a TSA checkpoint.
Clear said it responded to those incidents by firing both employees and their managers and by retraining the remaining employees at each location.
In an emailed statement, Thompson called for faster action from the TSA regarding Clear.
"After being briefed that there have been multiple security breaches over the past year due to Clear's lax security controls, TSA needs to ensure all travelers' identities are verified by TSA in real time, as we have urged TSA to do since December," he said. "Further delaying this puts our aviation system at unnecessary risk."
In a June 21 hearing of the House Homeland Security Subcommittee on Transportation, Pekoske said that he is committed to resolving any security shortfall caused by Clear.
"In my view, any security gap that TSA identifies, that's my job, to make sure that we identify those gaps and close them as quickly as we can," he said in response to a question from Thompson.
Source: Read Full Article