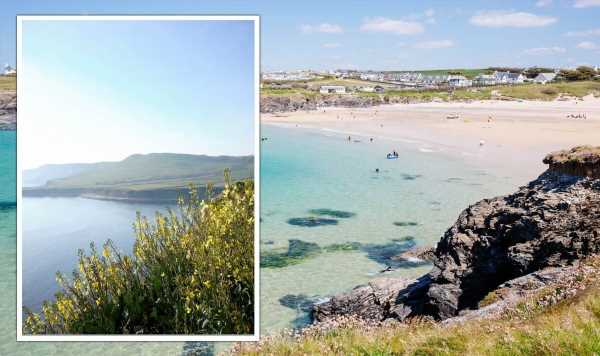 Heatwave: Expert warns of 'unprecedented' hot period
We use your sign-up to provide content in ways you've consented to and to improve our understanding of you. This may include adverts from us and 3rd parties based on our understanding. You can unsubscribe at any time. More info
As the UK scorches in a heatwave, many Britons are eager to hit the beach. Some of the UK's best beaches are also its cleanest.
BusinessWaste.co.uk found the UK's beaches with the cleanest swimming water in the country.
Cleanest beaches in Britain
Treyarnon Bay (Cornwall)
Shell Bay (Dorset)
Kimmeridge Bay (Dorset)
Kennack Sands (Cornwall)
Durdle Door East (Dorset)
Constantine Bay (Cornwall)
Combesgate Beach (Devon)
Church Cove (Cornwall)
Poole Shore Road Beach (Dorset)
Praa Sands East (Cornwall)
Gorgeous Treyarnon Bay in Cornwall was named the cleanest beach in the UK based on its clear waters.
One visitor wrote on Tripadvisor: "Stunning! Walked from here to Padstow. Absolutely incredible, no matter the weather.
"The vistas are ever changing and stunning in any conditions. The path is easily walked."
Another visitor wrote: "I was at this beach for five days, the beach is clean and well presented with a lifeguard on duty during the day."
Shell Bay in Dorset took the second spot and is another one of the UK's most gorgeous beaches.
One visitor said: "The sand here is so fine and soft and the sea very blue against the backdrop of the dunes.
"There is always something to watch in the bay with various boats coming in and out."
Another beachgoer wrote: "A little piece of heaven. The most gorgeous golden sandy beach as soon as you get off the chain ferry.
"A short stroll across the footbridge and your feet sink into the soft sand. Beautiful shells can be found."
Another Dorset beach also found its way into the top 10. Kimmeridge Bay was the third cleanest shore.
Located on the Jurassic Coast, one visitor described it as a "beautiful unspoilt bay" with "fabulous views".
All the beaches on Business Waste's list are located in the south of England with Conrwall, Dorset and Devon featuring.
But there are many other gorgeous clean beaches located all around the UK with Blue Flag awards.
Whitby beach was awarded the Blue Flag for cleanliness in 2022 and offers stunning golden sands.
Beachgoers can also hire a beach hut for the day with deckchairs while children can enjoy donkey rides.
Cromer Beach in Norfolk is also one of the UK's cleanest shores and tourists should try one of the region's world famous crabs.
Source: Read Full Article