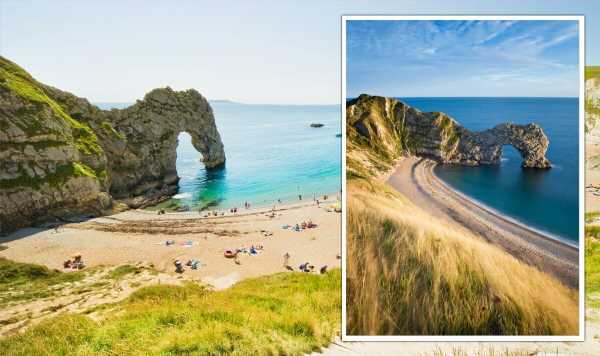 Reasons why the UK could face a summer of travel misery
We use your sign-up to provide content in ways you've consented to and to improve our understanding of you. This may include adverts from us and 3rd parties based on our understanding. You can unsubscribe at any time. More info
BeachAtlas analyses beaches around the world to find the best coastlines for visitors. This year the team has named the 100 best beaches in the world.
One stunning British beach made the top 40 best beaches in the world, joining a prestigious list of gorgeous coastlines.
Gorgeous Durdle Door beach in Dorset was ranked in place 38 in the world and could be the perfect spot for this year's heatwave.
The team at Beach Atlas said: "Durdle Door is found on the south coast of England, approximately 40 kilometres away from Bournemouth, UK.
"It is known for being home to one of the most famous stone arches in the world. The limestone arch is said to have been formed 10,000 years ago.
"The beautiful beach curving up to the arch is a mix of sand and gravel, and the water is clear as can be.
"Another wonderful natural phenomenon can be found nearby – The Purbeck Beds.
"A distinctive formation of exposed rock containing reptile and early mammal fossils.
"But to those who don't dabble in geology, it's just a beautiful sight of interesting rocks.
"There are also sea caves, but don't enter them because of the dangers of cliff falls."
One visitor wrote on Tripadvisor: "Just stunning. Fantastic spot and ample parking facilities."
Another visitor said: "Such a beautiful cove. We walked from Durdle Door to Lulworth which was a lovely walk with amazing views.
"I would definitely recommend this. The beach at Durdle Door is lovely to sit and take in the gorgeous views.
"We enjoyed a little picnic with our doggy and the amazing views of Durdle Door."
The incredible geological formation is one of the UK's favourite beaches and one of Dorset's primary landmarks.
Visitors can relax on the beach with views of Durdle Door or walk to nearby Lulworth Cove to enjoy a tranquil afternoon.
Tourists can also swim in the sea at Durdle Door but should take care as the water is very cold.
It is also not recommended to swim under the arch formation and tourists should stay in an area where they feel safe.
Tourists should also be careful on the cliff path and stick to allocated routes when visiting Durdle Door.
Straying off the path is very dangerous and has resulted in serious accidents in the past.
Lulworth Cove has a few excellent ice cream parlours where tourists can pick up a well-earned treat after walking from Durdle Door.
Staycationers could stay in nearby Swanage or Weymouth, where there are some fantastic fish and chip shops.
Source: Read Full Article