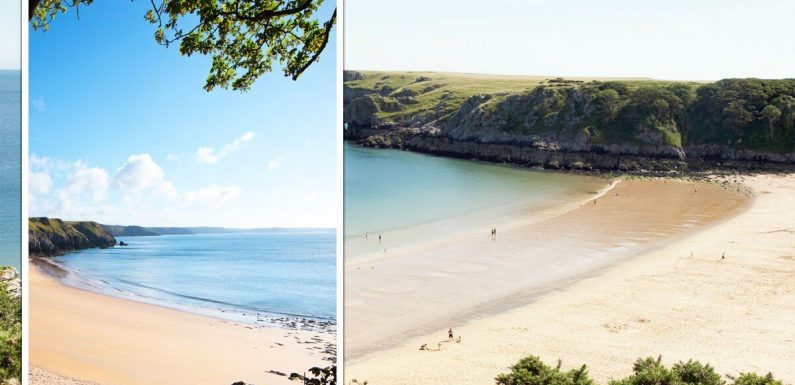 Martin Lewis: Presenter travels Malaga to test cash machines
We use your sign-up to provide content in ways you've consented to and to improve our understanding of you. This may include adverts from us and 3rd parties based on our understanding. You can unsubscribe at any time. More info
Wales is a growing tourism destination and has many stunning beaches for tourists. But where are the best coastlines?
Holiday rental search engine, Holidu, looked for the best beaches of the summer by looking at reviews.
Best beaches in Wales
Barafundle Bay Beach, Pembrokeshire
Traeth Mwnt, Ceredigion
Three Cliffs Bay, Swansea
Marloes Sands, Pembrokeshire
Rhossili Bay Beach, Swansea
Traeth Porth Ceiriad, Gwynedd
Monknash Beach, Vale of Glamorgan region
Dunraven Bay, Vale of Glamorgan region
Porth Dafarch, Isle of Anglesey
Freshwater West, Pembrokeshire
Barafundle Bay Beach in Pembrokeshire was named as the best beach in Wales in the Holidu rankings.
A spokesperson said: "Barafundle Bay is dubbed as one of the best places in Wales to go if you fancy some open water swimming this summer.
"This 'Jewel in the Crown' is found in a secluded cover which means that the waves aren't so strong so it's perfect for less confident swimmers looking for a safer environment to cool down in this year.
"This gem is only accessible on foot which only adds to the secluded charm."
One visitor to Barafundle Bay Beach wrote on Tripadvisor: "Absolutely breathtaking! Stunning, you will not believe you are in the UK."
Another said: "It continues to be one of the most beautiful beaches in this part of Wales. Unspoilt, perfect for a picnic or just a gentle amble. I hope it never changes!"
The second best beach in Wales was Traeth Mwnt in Ceredigion. The stunning beach is the top-rated attraction in the area.
One visitor said: "Absolutely beautiful, a must visit. Climb to the top if you want some stunning views."
Another said: "The views, beach and cove remain unspoilt, despite being popular. It always seems popular."
The stunning cove is National Trust managed and visitors even have a chance of spotting dolphins playing in the bay.
Three Cliffs Bay in Swansea rounded off the top three best beaches in Wales and is a gorgeous spot with sand dunes, salt marshes and limestone cliffs.
A visitor said: "Beaches just don't get better than this! I've never come across such soft, fine sand anywhere and there are acres of it."
Pembrokeshire was the Welsh region with the most top rated beaches and had three in the top 10.
The Vale of Glamorgan and Swansea are also some of the best Welsh regions to visit for a beach holiday.
The Welsh Government is debating the introduction of a tourist tax which could charge tourists a small fee to visit.
If the tax is introduced, money raised would be expected to go towards local infrastructure in popular areas.
Source: Read Full Article