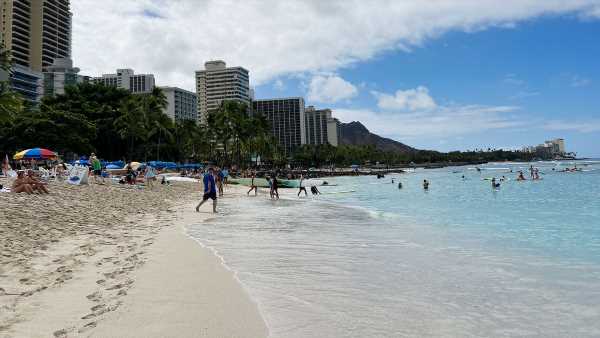 Hotels on Oahu saw an occupancy bump in the wake of the West Maui wildfires as tourists and others displaced by the disaster diverted to neighboring Hawaiian islands.
According to STR data for Aug. 13 to 19, Oahu achieved the second-highest occupancy rate in the nation for the week, at 88.4%. That percentage marked a 7.5% year-over-year increase from the same period in 2022.
Honolulu's tourism district of Waikiki recorded occupancy levels of 89% for the week, according to STR.
STR cited the devastating wildfires as the primary contributor to Oahu's performance that week, with Maui concurrently reporting significant year-over-year declines in occupancy. Maui's occupancy was down 27.6%, to 49%, for the week ended Aug. 19 and had only recovered slightly, to 53.5%, by the week of Aug. 20 to 27.
"Areas surrounding a national disaster zone tend to have a big jump [in hotel occupancy] anywhere from around six to 12 weeks after the event, depending on the event's significance," said Emmy Hise, senior director of hospitality analytics for STR parent company CoStar Group, adding that in the case of Hawaii, the "most significant growth and declines" appear to have occurred in the week after the fires.
Hise also pointed to a similar dynamic on Kauai, where occupancy went from around 75% for the five weeks before the fires to between 81% and 86% in the weeks immediately following the disaster.
Mufi Hannemann, CEO of the Hawaii Lodging and Tourism Association, wrote in an email that the Islands have seen an increase in occupancy on Oahu, Kauai and the Big Island during the weeks following the conflagrations in West Maui, which began Aug. 8.
Dani Johnson, an advisor with Coastline Travel in Garden Grove, Calif., said in August that she was considering moving clients to other islands because clients had so many questions about Maui and were clearly nervous about traveling there. However, they were still interested in Hawaii as a destination because of the outdoor-oriented activities there.
"That's the appeal," Johnson said. "They want more than just a beach vacation, otherwise they're just going to go to the Caribbean.
Oahu's occupancy surge may already be leveling off. For the week of Aug. 20 to 27, Oahu's occupancy came in at a more normalized 84%, the island's average occupancy level for the five weeks prior to the fires, according to STR.
Where people are flying
Air arrival data this month appears to show a similar picture.
Domestic air arrivals to Honolulu, the primary city on Oahu, have been flat to up since the fires broke out, compared with both 2022 and 2019, according to data from the state's Department of Business, Economic Development and Tourism. For example, arrivals to Honolulu were up 9.1% year over year on Aug. 15 and up 7.8% on Aug. 16.
Year-over-year gains appeared to be flattening out toward the end of the month, with arrivals flat to down as of Aug. 25.
The Big Island also saw year-over-year domestic arrival gains, though traffic was generally down slightly for Kauai. Nevertheless, all three islands have seen strong arrival growth when compared with 2019. (The department does not break out international arrival traffic to specific islands on its website.)
On Maui, however, domestic air passenger traffic is down significantly. Arrivals have dropped in the 60% to 70% range year over year since mid-August, according to state statistics.
Maui's importance as a tourism driver is also reflected in the figures. The island is the second-biggest destination for domestic visitors, and its arrivals drop has influenced the state's overall arrivals growth.
Another call for Maui visitors
Hawaiian hospitality and tourism leaders continued to emphasize that properties in unaffected parts of Maui are eager to welcome visitors.
"Our message remains clear," Hannemann said in his email last week. "The areas on the Valley Isle that have been unaffected by the devastating fires are open for tourism and business.
"We must remind the world that areas such as Wailea, Kihei, Makena, Hana and Kahului are open and that the people of Maui depend on tourism to keep our residents employed and our economy running."
CoStar reported that five Maui properties, comprising 1,904 rooms, were damage or destroyed in the fires, representing roughly 2% of total room supply in the Maui market. Among the properties lost were the Best Western Pioneer Inn and Outrigger Resorts & Hotels' Plantation Inn, both located in downtown Lahaina.
Hise, meanwhile, predicted that Maui may continue to experience the impact of immediate cancellations "for at least another month."
"But I think that after that, people with reservations that were already in place will follow through with them," said Hise.
"I think many people were sitting and waiting, and now that Hawaii officials are encouraging tourists to come back to the other parts of Maui that weren't impacted, I'm guessing that people will start coming back to the hotels soon."
Coastline's Johnson herself is visiting the Four Seasons Resort Maui at Wailea in February. She plans to use the trip and her experiences there to talk to clients about Maui travel next summer.
Jamie Biesiada contributed to this report.
Source: Read Full Article