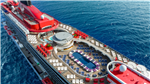 Virgin Voyages has closed on $550 million in new funding led by Ares Management and announced that founding CEO Tom McAlpin has stepped down and will continue as chairman.
Also, Virgin Voyages said Thursday that the line's fourth ship, Brilliant Lady, will not enter service at the end of 2023 because of "unexpected construction, supply chain and staffing challenges." Virgin said it is evaluating new possible launch dates.
The Brilliant Lady had been slated to sail Caribbean cruises from San Juan this winter. Guests with bookings that have been canceled "will receive generous offers along with exclusive rebooking perks and onboard credit once the new date is announced," Virgin Voyages said.
Virgin Voyages said the new funding raise will enable a strengthening of its financial position while supporting an expansion into into more markets. Ares led the funding round, with existing investors Bain Capital and Virgin Group contributing.
Virgin Voyages also received $550 million a year ago in a funding round led by BlackRock.
With the Brilliant Lady delayed and with the Scarlet Lady headed for a refurbishment, Virgin Voyages has created new itineraries through April 2025. Among the options are new repositioning voyages.
Resilient Lady
After returning from its inaugural season in Australia, the Resilient Lady will sail three itineraries from Athens from May through July 2024, followed by a series of three- to six-night sailings from Britain in August and September.
The Resilient Lady's European schedule also includes two repositioning voyages from the English city of Portsmouth to Barcelona, adding Morocco to the brand's roster of new destinations. The Resilient Lady closes its Med season with a Barcelona-Athens voyage that introduces Catania, Sicily, as a port of call. 
Then, the Resilient Lady will set off on a 44-night repositioning cruise from Athens to Australia in October 2024.
Valiant Lady
To start the 2023 winter season, the Valiant Lady will return from Barcelona on Oct. 29 for a season of Caribbean cruising. From January through March 2024, the ship will sail out of San Juan, sailing itineraries originally slated for the Brilliant Lady.
Virgin said the Valiant Lady will replace the Scarlet Lady sailing four- and five-night Caribbean cruises from Miami this winter, and that the Scarlet Lady, which only entered service two years ago, is headed for a drydock. 
Scarlet Lady
From May to October 2024, Scarlet Lady will sail Mediterranean cruises. On Nov. 3, the ship will embark on an 11-night repositioning voyage from Barcelona to Rome. The Scarlet Lady will be back sailing Caribbean cruises from Miami in winter 2024-25, following a transatlantic repositioning cruise.
Virgin Voyages said it will offer guests impacted by the new itineraries price- and promotion-protected options to
rebook and receive $300 to $600 in onboard credit or a full refund.
Virgin Voyages promotes Saverimuttu
Nirmal Saverimuttu will lead Virgin Voyages' next phase of growth as CEO. He currently serves as the line's president and chief experience officer.
In a statement, McAlpin said, "While I will miss the day-to-day, I believe it is the right time to step aside as CEO. Nirmal is a great friend and experienced leader who lives and breathes the Virgin Voyages culture. I know he will help take this amazing brand and crew to new heights, and I look forward to continuing to support the leadership team as chairman."
Source: Read Full Article