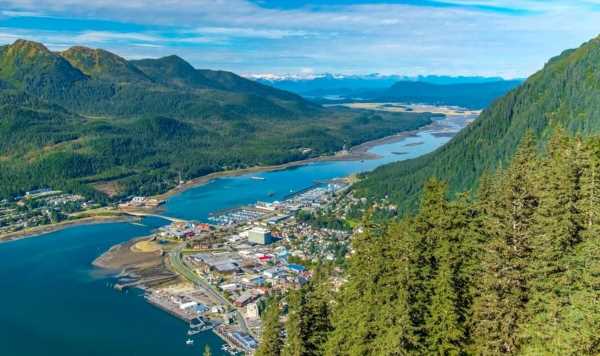 We use your sign-up to provide content in ways you've consented to and to improve our understanding of you. This may include adverts from us and 3rd parties based on our understanding. You can unsubscribe at any time. More info
Juneau, in Alaska, is one of the USA's top cruise destinations. Cruise ships usually dock in the downtown area of the city and tourists can then explore on foot.
Alaska's dramatic landscapes, dog sledding and whale watching tours attract cruise tourists from all over the world.
However, Juneau's plans to limit the number of cruise ships could reduce the number of tourists travelling to the region.
The city is planning to limit the number of ships that can dock at its downtown port to just five per day.
The Juneau Assembly also wants to electrify cruise ship docks and lower air pollution and overcrowding in the city.
A local resident, Steve Krall, told the Assembly that the proposed five ship limit wasn't enough.
According to Alaskapublic.org, he said: "We've got too many people in too small an area.
"Downtown hasn't gotten any bigger, the sidewalks aren't bigger, the roads aren't bigger. We're at the point where capacity really is the issue."
An Assembly member said they had received several emails asking for a three or four ship limit.
However, she said that the city could face legal opposition if it tried to introduce a lower cap, which could "cost a lot of money".
City Mayor, Beth Weldon, said: "Some people will say it's not a big enough step. I would say at least it's a step.
"We're going to be the first Assembly that has actually tried to tackle some of these issues, so give us some time to ease into it."
Juneau has a population of around 32,000 which is often swelled during peak cruise season by around 15,000 tourists per day.
Some residents have complained that the city becomes overcrowded while others are worried about the potential impacts of pollution.
According to a study published in Marine Pollution Bulletin, a large cruise ship can have a carbon footprint greater than 12,000 cars.
Waste production can exceed a ton per day on some of the world's largest cruise ships. Although the industry has committed to cleaning up its act, some scientists are sceptical of their efforts.
Juneau isn't the only city to place limits on cruise ships, while other destinations have banned them altogether.
Cruise ships are no longer allowed inside the Venice lagoon and must drop passengers at other Italian ports, such as Ravenna. Tourists are then driven to Venice.
Barcelona has announced plans to increase taxes for cruise tourists who stay overnight on a ship in the city's port.
Officials in the Caribbean island of Anguilla have said they will never allow cruise tourism due to the environmental impact.
Another American port, Bar Harbor in Maine, recently introduced its own cap on the number of tourists allowed to visit.
Source: Read Full Article