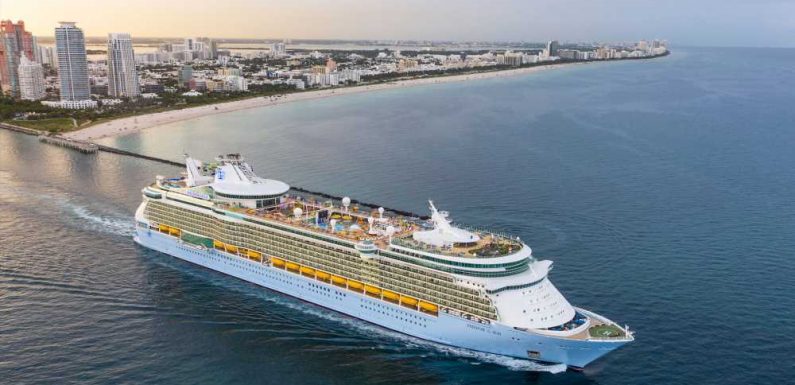 The Covid-19 delta variant has had a modest impact on an otherwise very strong pace of bookings, Royal Caribbean Group executives said Wednesday. 
The company said that booking activity for 2021 sailings is consistent with expected capacity and occupancy ramp-up, at prices that are higher than 2019. The positive booking and pricing environment comes with a second-quarter loss of $1.3 billion. 
Travel Weekly is tracking what cruise ships are operating again and when other ships are due to re-enter service. 
"While it's too early to make any definitive conclusions of the impact of the delta variant on bookings, the company has seen a modest impact on closer-in bookings," Royal said. "However, 2022 continues to remain strong. In particular, the spring and summer months are performing well."
CFO Jason Liberty said the slight booking dip is in markets with high Covid-19 case counts. 
Royal Caribbean International CEO Michael Bayley said the delta variant had made slight impact over the last two weeks, but there was still very positive growth in demand. The strong booking environment since the spring has continued but at a lower trajectory," Bayley said, which he believes is a short-term occurrence.
"There is no material impact at all for '22," he said. "I think customers can see this for what it is. It's a blip and a bump. We feel encouraged by the protocols we have in place. We've been very encouraged to see that when we do have positive Covid cases on ships, we very quickly contact-trace and test, and what we find is that very often you might have a positive case and that in the very same room somebody vaccinated tests negative. The vaccines are really working."
Bayley said that during July, its ships sailed averaging about 92% of passengers vaccinated, even though it was allowing children 12 and under to sail unvaccinated. 
CEO Richard Fain said that cruising has gone from "being a source of concern to an example of how to deal with Covid-19." 
"The vaccines are the ultimate weapon, and they work," he said. 
"We are watching the impact of the delta variant and other likely variants, but overall, we remain optimistic in our mounting trajectory going forward," Fain said. "People also book their cruises long in advance, so we are concentrating on maintaining our price levels while growing our load factors."
The strong pricing and booking outlook overshadowed the huge second-quarter loss, which Fain called "another painful set of financial results." However, the good news is Royal's "dramatic progress of the restart of our operations and the continued strength and demand environment for our brands," Fain said. "We already restarted almost half of our capacity and we are bringing more online as we speak."
Related stories
Carnival Corp. executives discuss pent-up demand
Cruise bookings grow despite uptick in Covid cases
Royal Caribbean will have all ships in service next spring
Fain said bookings "are remarkably strong, especially for 2022" and that he believes the "flywheel effect" will push bookings even more, once most ships are sailing and thousands of people cruise safely. "Once it starts spinning, its gets more powerful," he said. 
Fain said that cruise consideration remains high among frequent cruisers and is steadily increasing among non-cruisers. 
CFO Jason Liberty said that customer deposits today are 30% higher than they were at the end of the last quarter, at $2.5 billion. Liberty said that a little over 35% of that is associated with future cruise credits (FCCs), compared to about 45% at the end of the last quarter. 
Liberty said the company took 50% more bookings in the second quarter than the previous 3 months and that bookings for 2022 are nearly at 2019 levels. 
Source: Read Full Article