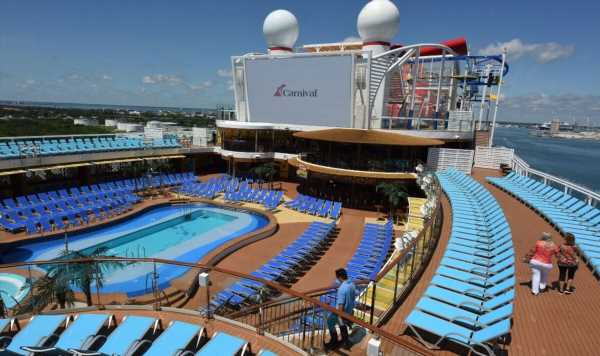 We use your sign-up to provide content in ways you've consented to and to improve our understanding of you. This may include adverts from us and 3rd parties based on our understanding. You can unsubscribe at any time. More info
Carnival Cruise Line has said that guests will no longer be allowed to pre-purchase bottles of liquors. Passengers used to be able to order a bottle before the cruise started.
Carnival Cruise Line Brand Ambassador, John Heald said: "You will have seen that we no longer have full-bottle liquor sales available on pre-order.
"Hard liquor is no longer available for pre-order on our Fun Shops."
Carnival's Fun Shop is where guests can buy extras and drinks packages for their cruise as well as excursions and spa packages.
Heald continued: "All existing sales will be honoured and guests can still pre-order up to two bottles of wine for onboard delivery and consumption."
The brand ambassador was adamant that the change had not been made to save money, saying: "This is not a cutback. Not when it affects our revenue can this be called cut back.
"The decision has been made so that we can more safely monitor alcohol consumption and for reasons which I'm sure you understand."
Carnival Cruise Line customers will still be able to purchase bottles of liquor in the ship's shop.
Guests can buy liquor while onshore but will have bottles confiscated until the end of their cruise holiday.
In September a video of a brawl on a Carnival cruise ship went viral on social media as passengers fought over a chair.
The footage appeared to show two groups of women shouting at each other before a man appeared to hit a woman.
The participants knocked over several chairs during the fight which was broken up by security.
In June, 40-60 passengers reportedly became involved in a fight on a Carnival cruise ship's dancefloor.
Alcohol consumption can raise the risk of passengers overheating in cruise hot tubs or becoming involved in accidents.
Carnival also recently introduced a fine of $500 (£431) for any passengers showing disruptive behaviour.
Rowdy guests could be detained and then thrown off the ship for bad behaviour under the new rules.
Passengers would also be responsible for covering any extra costs incurred by the cruise line due to their behaviour.
The popular cruise line is also cracking down on 'chair hogs', a pet peeve for many cruise holidaymakers.
'Chair hogs' are people who put a towel on a pool lounger at the start of the day and then leave it.
Carnival Cruise Line said that passengers' stuff would be removed from loungers after a suitable time period.
Guests can then collect their things from the cruise ship crew while another passenger enjoys the chair.
Source: Read Full Article