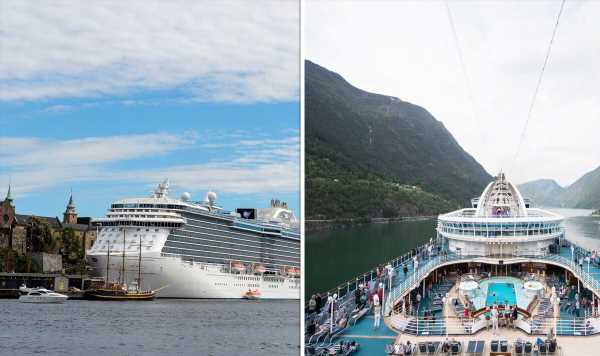 Norwegian Sun cruise ship hits iceberg near Hubbard Glacier
We use your sign-up to provide content in ways you've consented to and to improve our understanding of you. This may include adverts from us and 3rd parties based on our understanding. You can unsubscribe at any time. More info
Cruise holidays might be popular with a lot of people but not everyone is so keen. Holidaymakers have been met with angry posters across Norway.
In Oslo, Bergen, Stavanger, Trondheim and Flåm anti-cruise posters have been put up by angry activists.
CruiseNOTWelcome campaigns against cruises as an attempt to raise awareness of the environmental damage they can cause.
One of the posters shared on Twitter read: "You have just arrived in my home town on a floating block of flats that burn asphalt for propulsion and energy.
"The ship is registered in some bandit state or in an offshore secondary register to exempt them from all our laws about tax, environmental protection and workers rights.
"You paid for your trip to a company that does not pay taxes to Norway or at all, and the workers are exempt from all relevant labour laws.
"Please go back to your boat and tell all on board that you are parasites. You are not welcome in Norway!"
The founder of CruiseNOTWelcome, Bengt Erik Waldow, said: "The industry is doomed because the whole concept of moving a floating town from port to port can never be CO2 efficient no matter what fuel they use."
The group also claims that ships have poor working conditions and that companies do not pay sufficient taxes.
Waldow said cruise ships were a particular problem in Bergen and Stavanger where tourists flood the town centre.
The group is calling on the Norwegian Government to ban cruise ships permanently from the country.
Waldow said they would the Government to just "shut the harbour areas and use them for something more useful and environmentally sound".
However, he said the group were not responsible for posters telling cruise passengers to 'F* off!'
A Cruise Lines International Association spokesperson told the Independent: "CLIA and our member lines work closely with communities and local Governments in ports and destinations around the world to deliver sustainable tourism.
"Cruise tourism brings joy to millions of passengers and enormous social and economic benefits to communities, particularly in coastal and often remote regions."
They added that cruise ships were "greener than ever before" and that lines were committed to net zero by 2050.
Norway isn't the only destination where cruise ships have proved very controversial with local residents.
Venice has banned cruise ships after concerns over pollution and overtourism in the popular city.
Palma in Majorca has put limits in place to control the size of the ships that can dock in the port.
Barcelona has announced plans to charge cruise tourists an extra tax to crack down on the number of ships.
Cruise passengers already pay a tax to visit the city and it is not yet known how much more they will be charged.
Source: Read Full Article