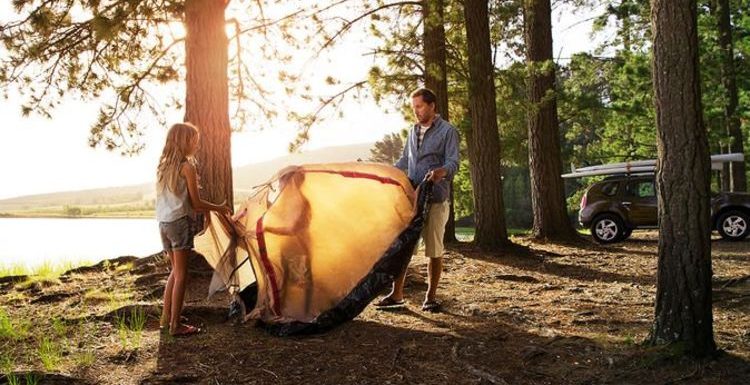 The Camping and Caravanning Club detail virus safety measures
When you subscribe we will use the information you provide to send you these newsletters.Sometimes they'll include recommendations for other related newsletters or services we offer.Our Privacy Notice explains more about how we use your data, and your rights.You can unsubscribe at any time.
Camping holidays experienced a boom last year amid uncertainty around foreign travel and it's set to be a similar tale in 2021. But, as many rush to book up their spring and summer getaways, it's key not to make any holiday faux-pax. Money-saving experts have shared their top tips about what not to do when heading off on a camping trip this year.
Penny-pinching pros at NetVoucherCodes.co.uk explained that costs can easily soar if you're not careful.
A spokesperson shared their travel advice: "Generally, people think camping is cheaper than stopping in bricks and mortar accommodation, and whilst this largely true, it's surprisingly easy for costs to spiral.
"By the time you've added on the cost of a tent, ground mats, sleeping bags, air beds, and cooking equipment, your bill could easily run into the hundreds – that's before you've even booked a pitch!
"Luckily there are plenty of ways to save money on your next camping adventure, so whether you're feeling frugal or are on a tight budget this summer, you can enjoy the great outdoors regardless!"
Food and cooking is an area that can see prices rise on a camping trip.
The experts warn against relying on campsites for firewood – instead, take your own or even collect it while you're there.
"Many campgrounds charge for their firewood so the costs can soon add up if you are cooking on the campfire each night," said NetVoucherCodes.co.uk.
"You could either bring your own or alternatively spend the afternoon wood collecting once you have set up camp.
"Afterall, most campsites are situated in wooded grounds so make the most of your surrounding."
Holidaymakers are also urged to steer clear of portable BBQs – get a portable grill instead.
"You may be tempted to bring a few disposable BBQ's with you on your next camping adventure," said the money-saving experts.
"However, not only can the price rack up if you're buying three or four but they are also bad for the environment.
"Portable grills do the exact same job and are pretty inexpensive so they're definitely worth the money."
Another top tip is to plan your meals in advance.
"Be forward-thinking when planning your next trip. Plan what you will eat and pack accordingly," advised the said NetVoucherCodes.co.uk pros.
"The last thing you want to be doing is spending over the odds in on-site shops for over-priced goods you could have easily brought with you.
"Also, try and plan meals which are simple and low-cost."
Lastly, travellers shouldn't be sucked into the idea that they must invest in specialist equipment.
"Don't spend fortunes on specialist cookware," said the experts.
"Use your old pan and some essentials from home to save heaps of money."
Source: Read Full Article