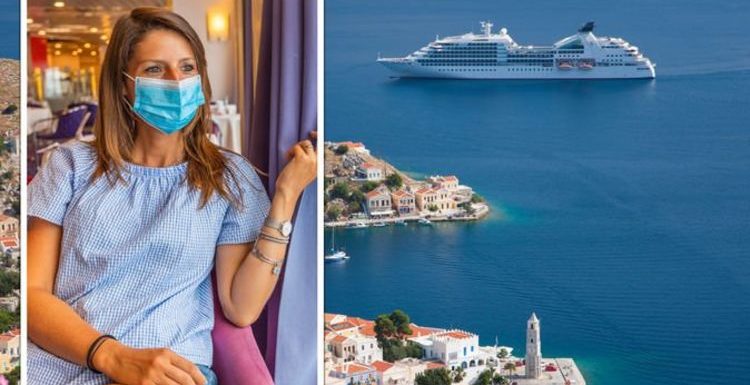 P&O Cruises show off Arvia's SkyDome
We use your sign-up to provide content in ways you've consented to and to improve our understanding of you. This may include adverts from us and 3rd parties based on our understanding. You can unsubscribe at any time. More info
Cruisers may love travelling on ships, but the pandemic has put a damper on their hobby. With cruise ships becoming hotbeds of Covid during the pandemic, the cruising industry is only starting to find its feet again.
While Covid may have put some people off cruising, many say they would not have gone on a cruise even before the pandemic.
On LinkedIn, Simon Ward said: "Who would want to take a holiday on a floating petri dish?"
And Steven Liscombe agreed, saying: "My mum always thought of them as floating prisons."
Cruises seemed to have bad reputations on the social media platform, with staff exploitation, high costs and overcrowding all cited as the reasons not to go on a cruise.
Mark Shepherdson said: "I can't imagine anything worse than a cruise…
"I go on holiday to get away from people, preferably where I don't speak the language (or can at least pretend I don't) not be trapped with those who think dinner dances are a worthwhile thing."
John Moore, meanwhile, wrote: "Cruising swamps popular tourist destinations like Venice and Santorini.
"I wouldn't want to be stuck on a boat with several thousand elderly strangers."
Cruises may be a fantastic way of seeing the world, but they are still adapting to travel in Covid times.
The Norwegian Breakaway, which made stops in Central America before docking in the US, identified 17 cases of Covid, including one of Omicron.
Betsy Rodriguez was a passenger on the Caribbean cruise and said: "I only found out after I got home and saw it on the news.
"We felt pretty safe knowing everyone on the ship was vaccinated, but I guess it would have been good to know people tested positive so we could have been more careful."
Holidaying at sea is a great way to see the world, but cruise ships are dividing holidaymakers.
On Twitter, Jessica Calarco wrote: "Cruises are a surprisingly affordable way to get a slice of something that passes for luxury. And I'd guess that, with Covid, cruise companies have now cut their rates even further – appealing to people who can't afford a safer nice vacation but are desperate for joy."
Cruises are still extremely popular, and a couple who got stuck on the Diamond Princess at the start of the pandemic have said they've booked eight more cruises.
In Europe, the French Government has implemented new rules for cruise passengers who wish to come ashore in France.
From December 15, every passenger over the age of 65 will need to have had a booster on top of its full vaccination certificate.
German brand AIDA updated its website to include the new requirements.
They said: "The following official requirement is relevant for all guests who are planning to go ashore in France.
"From December 15, 2021, people aged 65 and over will only be considered fully vaccinated there after a booster vaccination, and from January 15, 2022, people aged 18 and over.
"This means that if the second vaccination was more than seven months ago (Johnson & Johnson two months after the first vaccination), a booster vaccination is necessary before departure.
"There must be at least seven days between the booster vaccination and the start of the journey.
"If you have not received a booster vaccination by then, it is unfortunately not possible to go ashore in France."
Source: Read Full Article