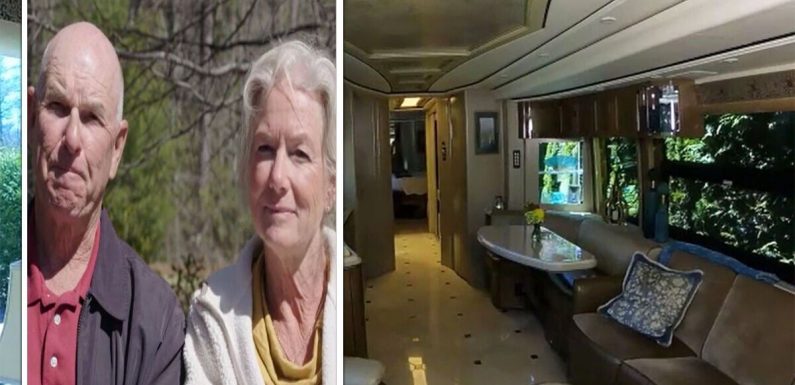 Million Pound Motorhomes: Expert offers tour inside vehicle
We use your sign-up to provide content in ways you've consented to and to improve our understanding of you. This may include adverts from us and 3rd parties based on our understanding. You can unsubscribe at any time. More info
As more people choose to sell up and hit the road, Channel 5 met motorhome owners with a range of different vehicles. From budget vans to luxurious motorhomes, owners explained why they'd chosen a home on wheels.
The Campbell family from Oxfordshire had decided to sell everything and take a year out to travel the world.
Dad Campo, 40, said: "I think there's a good percentage of people who think we're completely mad."
The family's campervan to travel the USA even had a full size fridge while the three children shared a bunk bed above the driver's seat.
But some motorhome owners enjoy a more luxurious lifestyle on wheels than the Campbell family.
American motorhome owners, Pat and Jan, showed off their luxurious vehicle as they headed to the Blue Ridge mountains.
"We call our motorhome the Rolling Ritz, when you get in there you feel like you're in the Taj Mahal on wheels!" said Pat.
The married couple owned a 2019 Provost Marathon, a 45ft long motorhome that weighs a whopping 56,000 pounds.
The exclusive motorhome came with a hefty price tag, costing Pat and Jan $2.1million (£1.6million).
Pat and Jan now spend half of their year travelling from coast to coast visiting national parks and friends and families.
The dazzling 'Rolling Ritz' had two slides to widen the living room and the bedroom when parked up.
Much of the expensive furniture was made of wood and leather and Jan showed off her full size refrigerator.
Jan said: "We are the envy of a lot of our family!"
She even said she preferred the king size memory foam bed to the one in her house at home.
The motorhome has a huge shower and Pat said: "You never run out of hot water".
Pat and Jan even enjoy marble floors in their 'Rolling Ritz' home as well as a huge flatscreen TV.
Huge RVs have a lot more space on the road in the US than in Europe so Pat and Jan found it easy to explore.
The pair stayed at an exclusive resort in the Blue Ridge mountains with a hot tub, pool and golf facilities.
Jan said: "A lot on this Ridge would set us back about a million dollars (£838,000). We bought the motorhome to experience life to the fullest and we want the best."
Elsewhere, Million Pound Motorhomes joined Sam and Chris Hall from Devon who had saved over £20,000 converting their own van into a camper.
The pair were doing all the renovations themselves and were even making a sun deck to enjoy in their van.
Source: Read Full Article