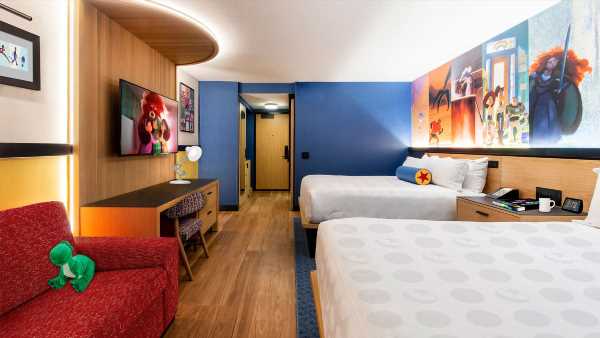 Disneyland Resort has set an opening date of Jan. 30 for its Pixar Place Hotel.
The property is a revamp of Disneyland's Paradise Pier Hotel. A Pixar-themed makeover features art and other elements inspired by Pixar films and characters.
The hotel's guestrooms, for example, will feature nods to movies like "The Incredibles" and "Toy Story 3" as well as the animation studio's Pixar Lamp and Pixar Ball mascots. 
Meanwhile, the hotel's all-day restaurant, Great Maple, is slated to open sometime this November, serving upscale comfort food. It will be joined by grab-and-go coffee shop Sketch Pad Café and rooftop pool bar Small Bytes. 
Select facilities have already opened to guests of the Paradise Pier, which has remained open throughout the transition. These include a Finding Nemo-themed splash pad and pool area, the Stor-E gift shop inspired by the film "Wall-E," and an expanded fitness center featuring a wall mural with characters from the film "Monsters University."  
The Pixar Place Hotel will join Disney's Grand Californian Hotel & Spa and the Disneyland Hotel in the Disneyland Resort's hotel portfolio.
Source: Read Full Article