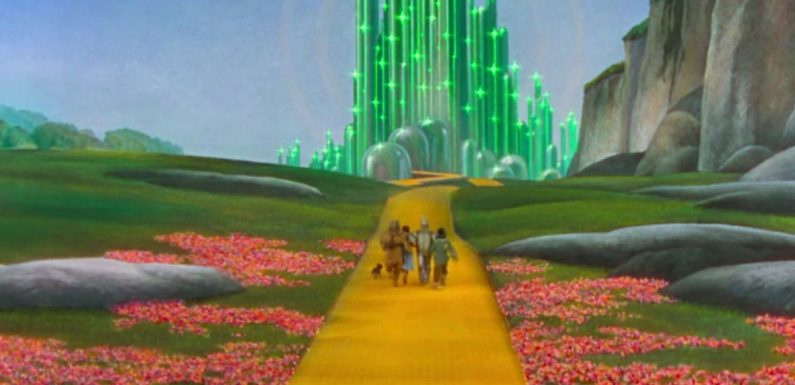 When we think of castles, we often associate these structures with royal families who lead lives that are seemingly nothing like our own, but castles are actually much nearer to us mere plebeians than you might realize. For decades now, castles have often played starring roles in countless moments in pop culture history—in films, television shows, music videos, and beyond. Needless to say, it was only a matter of time before House Beautiful decided to compile a list of the most iconic castles in the entertainment world—and it's certainly a feast for the eyes, to say the least. Below, take a look at the list, which includes castles seen in Downton Abbey, The Wizard of Oz, the Harry Potter films, a Taylor Swift music video, and elsewhere—many of which can be visited and toured in real life!
The Royal Palace of Oz From The Wizard of Oz
Located at the center of the fictional Emerald City, the Royal Palace of Oz is what lies beyond the end of the famed yellow brick road—and it's surely worth the journey. When Dorothy, the Scarecrow, the Cowardly Lion, and the Tin Man (oh and Toto too!) finally reach this towering emerald castle, they are greeted by a plethora of people who are sporting head-to-toe emerald-colored attire. Of course, this sparkling palace doesn't exist in real life, given that it was brought to life through movie magic and man-made sets. Fortunately, however, fans of this iconic film can visit the home in which the movie's star, Judy Garland, grew up in, which is known as the Judy Garland Museum and is located in Grand Rapids, Minnesota.
Hogwarts Castle, From the Harry Potter Films

© Warner Bros. Pictures
258AF1B4-E84B-4D9C-AB7F-AE61DE2DF7A8.JPG


The Hogwarts Castle that many of us grew up seeing on the silver screen—thanks to its numerous appearances in all eight of the Harry Potter films—was a combination of an actual castle, a model castle built on the film's set, and CGI. The real structure that helped bring Hogwarts to life is Alnwick Castle, an 11th century English structure that operates as a wedding venue. Even Prince William and Prince Harry attended a wedding here, back in 2013. It was featured in the first two Harry Potter films, while many aerial shots of Hogwarts were made possible by a (not-to-scale) model built at Warner Brothers Studios in London (and you can even tour the studios!). And don't fret because Hogwarts doesn't actually exist—you can always visit the Wizarding World of Harry Potter at Universal Orlando to truly live out your magical dreams.
Load Error
Oheka Castle, Best Known For Appearing in Taylor Swift's"Blank Space" Music Video
Oheka Castle has been part of numerous moments in pop culture history, so it was a no-brainer to include it on this list. Its most notable appearance can be seen in Taylor Swift's"Blank Space" music video—but you may have also seen it in Succession, Gossip Girl, and Citizen Kane, to name a few of its other starring roles. And, given that Oheka Castle is a wedding and events venue, it should come as no surprise that numerous celebrity couples have gotten married here, including Kevin and Danielle Jonas and Maksim Chmerkovskiy and Peta Murgatroyd. Built between 1914 and 1919, Oheka Castle was designed by Delano & Aldrich in the Chateauesque style, while its lavish gardens were created by the Olmsted Brothers (sons of Frederick Law Olmsted, best known for designing Central Park).
Highclere Castle, As Seen in Downton Abbey
Even if you've never seen a single episode of Downton Abbey—or its recent feature film—there's no denying the grandeur of its main filming location, Highclere Castle. Avid fans of the show may recall that the castle was listed on Airbnb back in the fall of 2019, for just one night (and at only £150, no less). Built in 1679, this structure sits on 5,000 acres and has been in the Carnarvon family ever since its creation. The Jacobean Revival-style architecture was designed by Charles Berry, while the gardens were the creations of landscaping legend Capability Brown. If you weren't lucky enough to stay the night at Highclere Castle following its limited time on Airbnb, fear not—you can tour both the castle itself and its grounds, and you can even get married here!
The Royal Palace of Valaskjalf From the Thor Films
The Marvel Cinematic Universe has something for everyone—and that includes a towering ancient castle in a fictional Nordic kingdom known as Asgard. If you've seen any of the three (soon to be four!) Thor films in the MCU, you'll know that we're referring to the Royal Palace of Valaskjalf, which is home to the Asgardian royal family that is made up of Odin, Thor, and Loki, amongst others. In the third and most recent Thor film, Thor: Ragnarok (2017), this palace—and the rest of Asgard—is (spoiler alert!) demolished following an attack led by a gigantic Satan-like figure made of fire. Fortunately, according to Nordic mythology, Asgard is restored following the world's renewal, so here's hoping that this palace will grace the silver screen once again when Thor: Love and Thunder hits theaters in 2022.
Hearst Castle, As Seen in Spartacus and Lady Gaga's"G.U.Y." Music Video
Since its construction was completed in 1947, Hearst Castle hasn't been used as a filming location all that often, but the few times it was, it was for the 1960 film Spartacus and a Lady Gaga music video. In the latter, expect to see the castle's famed Neptune and Roman Pools on full display—complete with the theatrical fashions of the inimitable Lady Gaga. In total, it took nearly two decades to build this castle—which is located in San Simeon, California—and it was built for publishing magnate William Randolph Hearst. Just last year, House Beautiful spoke to the art director and set decorator of Lady Gaga's"G.U.Y." music video, which was shot at the castle back in 2014—and we found out some interesting anecdotes about the video shoot. The Roman Pool, which is best known for its unmistakable royal blue and gold tilework, was transformed into a sort-of concert venue thanks to a stage installed by the production team, so that Lady Gaga could perform directly above the iconic pool. But, because of the freezing temperature of the pool's water, the production team had to wear wetsuits. Oh, and Lady Gaga got poison oak after laying in dirt for a scene in which she falls from grace. Ouch.
Winterfell From Game of Thrones
Nearly two years after its final episode premiered, Game of Thrones is still a fixture in pop culture today—with numerous spin-off series currently in the works—and staunch fans of the show will likely remember Winterfell, which has been the Stark family's primary residence for an impressive 8,000 years. Winterfell is also known for being the site of the Battle of Winterfell, which was the final battle of the Great War in Game of Thrones. This structure was brought to life using two real life castles: Castle Ward, which is located in Ireland, and Doune Castle, which is located in Scotland. And, best of all, you can tour both of these castles at your own leisure! But don't expect to find the iron throne—which is made of 200 swords—at either site; it was located in another Game of Thrones castle, the Red Keep, which was (spoiler alert!) destroyed in the series' final season.
The Cinderella Castle
Following the success of the animated Cinderella movie in 1950, it was only a matter of time until the iconic castle depicted in the film was brought to life. Today, there are two real life Cinderella Castles—one in Orlando, Florida, as part of Walt Disney World's Magic Kingdom, and another, at Tokyo Disneyland in Japan. These structures opened to the public in 1971 and 1983, respectively, and have since become two of the most popular sites at Disney World and Disneyland, both of which are visited by tens of millions of people each year. Last summer, as a way to commemorate the 70th anniversary of the original Cinderella film, the Cinderella Castle in Orlando was made over to have a more colorful exterior, going from a mostly pale white look to a soft pink one. Can't make it to see the castle in person? Not to worry—you can tour the Cinderella Castle Suite here.
Follow House Beautiful on Instagram.
Source: Read Full Article